Classical
Classical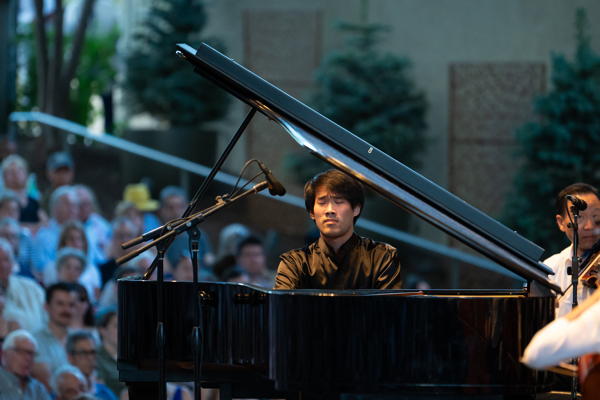 Bravo! Vail, Episode 3: Life, death, and bobbleheads
By Chuck Lavazzi
By Chuck Lavazzi
[Being the third in a series of dispatches from the 2023 Bravo! Vail Music Festival, attended by yours truly as part of a delegation from the Music Critics Association of North America (MCANA)]
For most of my fellow music critics, Thursday July 13th began around 9:30 am watching Yannick Nézet-Séguin, the Philadelphia Orchestra, and piano soloist Bruce Liu in their first and only rehearsal of Rachmaninoff's Piano Concerto No. 2 in C minor, Op. 18, which was performed that evening. I don't arise that early, though, so I didn't manage to join the group until the 12:30 meet and greet with Nézet-Séguin.
Yannick Nézet-Séguin, his bobblehead, and
the MACANA crowd
We didn't have much time with him, but what we had was lively and informative. Offstage Nézet-Séguin radiated the same kind of enthusiasm and charm he dispenses on stage, happily answering questions from our group and posing for a selfie. He also told an amusing anecdote about the festival's first foray into opera, Puccini's political drama "Tosca." "The audiences were so new to the opera," he recalled, "that when Scarpia [one of opera's more repellent villains] came to take a bow nobody applauded and they all booed. But they all loved it, and that's our mission—building audiences everywhere."
He also noted that "you're getting the best of the weather here. It can be very unpredictable but this week it's predictably beautiful."
Each of us also got an official Yannick Nézet-Séguin bobblehead (complete with a tiny version of his characteristic red-tipped baton). Mine currently resides next to my only other bobblehead, Harry Houdini. "The head is OK," quipped Nézet-Séguin, whose podium style is very physically active, "but the body doesn't move enough."
All of this did, however, make us late for our next event, a free Community Concert at the Vail Interfaith Chapel by the Viano String Quartet (violinists Lucy Wang and Hao Zhou, violist Aiden Kane, and cellist Tate Zawadiuk). As a result we missed all of the opening piece, Reena Esmail's "Zeher" ("Poison"), along with over half of Bartók's String Quartet No. 3 Sz. 85. What we did hear was pretty impressive, though.
Happily, we did get to enjoy all of Smetana's String Quartet No. 1 in E minor ("From My Life"). Violist Kane jokingly referred to it as "Smetana's Viola Concerto" because of the prominent part for her instrument, but the music itself is serious stuff.
The Viano Quartet
Photo courtesy of Bravo! Vail
Smetana wrote his first and only string quartet near the end of his life as his hearing and health were failing. It's overtly programmatic, tracing the composer's life from his initial delight in his art (first movement), his love of his native Bohemia's folk music and dances (second movement), his happy marriage to his first wife, Kateřina (third movement), and in the last movement, his tinnitus (graphically illustrated by a sustained E in the violin), subsequent hearing loss, and the decline in his health.
That's a lot of emotional territory to cover, and the Viano Quartet covered it thoroughly, displaying a strong connection with the work's wide emotional range.
The concert concluded with an arrangement of "In Other Words" (the 1954 jazz standard better known these days as "Fly Me to the Moon") by violinist Zhou. A lively mix of mainstream jazz with just a touch of vintage Quintette du Hot Club de France and a slick cello solo, it was the perfect contrast to the tragedy of the Smetana quartet.
Thursday evening found us back at the Ford Amphitheater for a mostly Rachmaninoff evening. I say "mostly" because the concert opened with the brief (six minutes) "Fanfare Ritmico" written at the turn of the millennium by American composer Jennifer Higdon (b. 1962). Quoted in the program, the composer says that the piece "celebrates the rhythm and speed (tempo) of life…This fanfare celebrates that rhythmic motion of man and machine, and the energy that permeates every moment of our being."
Energy the fanfare has aplenty, to be sure. Scored for orchestra and a massive percussion battery (four percussionists playing 26 instruments plus tympani), it sometimes felt less like a work for percussion and orchestra and one for percussion vs. orchestra. It essentially consists of a five-note motif that dashes around the stage at breakneck pace, sometimes in massive sonic blasts, sometimes in delicate moments for a handful of instruments.
Higdon's orchestration is inventive and the performance by the Philadelphians was quite the feat of virtuosity. You couldn't call it great music, but it was fun while it lasted.
Up next was a work that has become a favorite of mine over the years, Rachmaninoff's "Symphonic Dances." I have found it oddly compelling since I first heard it during my undergraduate days on a 1961 LP recording by the Philadelphia Orchestra under Eugene Ormandy, who conducted the work's first performance in 1941. I was immediately struck by the "late night" feel of the piece—and not just because of the chimes in the last movement. It was only later that I learned that Rachmaninoff had, in fact, originally titled the three sections "Noon," "Twilight," and "Midnight." The composer dropped the titles, preferring to let the music speak for itself, and it does so eloquently.
The work is filled with evidence of Rachmaninoff's genius as an orchestrator, with elaborate and complex string writing, inventive use of brasses and winds (including a short but poignant solo for alto sax), and an effective but never overwhelming use of the large percussion battery. The final movement is a struggle between the "Dies Irae" and the "Resurrection" theme from Rachmaninoff's 1915 "All-night Vigil," which while emphatically resolved in favor of the latter, still seems to carry the sense of a life approaching its conclusion.
Nézet-Séguin's approach leaned heavily on the melancholy and emotional extremes of the music, with strong contrasts in dynamics and tempi and, of course, lots of rubato. This was particularly effective in the second dance, Andante con moto (Tempo di valse), which swelled and swooned as it built slowly to a forceful restatement of the main theme and an energetic coda. Orchestral details were very clear throughout, allowing us to hear more of that exceptional skill the band displayed in Higdon's "Fanfare."
André Watts in 1971
Photo: James Kriegsmann, New York
Public Domain, 
The Lento assai sections of the final dance were unusually slow, creating a strong sense of yearning—perhaps for the life that was departing, perhaps for the one that the deeply religious composer no doubt felt was to come. It added to the impact of the final moments in any case.
This was not a "Symphonic Dances" reading that was much to my taste, but it must be acknowledged that Nézet-Séguin made a persuasive case for it. And the audience loved it.
In program notes for a 2019 performance, St. Louis Symphony Orchestra Music Director Stéphane Denève described the "Symphonic Dances" as "redeeming—it's a piece of hope. The ending is an Alleluia, a triumph over death. It was his last work, and maybe, because he composed this piece, he felt he could die." That was the feeling I got from this performance.
After intermission, Rachmaninoff's wildly popular Piano Concerto No. 2 in C minor Op. 18, concluded the concert. But first, "Old Mortality" was back among us again.
"One shining light has gone now into the sky; a new star is coming." That's how Nézet-Séguin introduced piano soloist Bruce Liu to the audience. The light in question was that of legendary pianist André Watts, who had died the previous day at the age of 77.
Those of us d'un certain âge (sounds more classy than "old") remember Watts well. As someone who was born only two years later than him, I remember him as being around my entire life—because he was. When he made his famous debut playing the Liszt Piano Concerto No. 1 with Bernstein and the New York Philharmonic, he was only 16 and I, at age 14, was just beginning to seriously love "classical" music. Watts went on to become a star and I went on to become, eventually, a music critic. And so it goes.
Although much younger than either of us, Nézet-Séguin also remembers Watts well because when the conductor made his Philadelphia Orchestra debut in 2008, he was accompanying Watts in, of all things, the Rachmaninoff Second. "The coincidence is almost overwhelming emotionally," he recalled. "So, this resonates very personally and as you can understand, in this entire concert and especially this performance, we all have André on our hearts."
It's a beautiful sentiment. I wish I could say the performance of the concerto that followed was a fitting tribute to the late pianist, but honesty forbids me from doing so. From the famous seven-chord introduction, with its evocation of tolling bells, until nearly the end of the last movement, this was a performance that pushed the limits of the concept of "slow" and generally lacked energy.
Bruce Liu and Yannick Nézet-Séguin
Photo courtesy of Bravo! Vail
The opening of the first movement was so ponderous that there was little room for contrast with the more romantic second theme. Soloist Liu's voicing brought out some inner details of the piano part that I hadn't heard before, but otherwise it felt oddly passionless and affected.
The second movement (marked Adagio sostenuto) felt more Lento, if not downright Larghissimo, making it a serious test of the principal clarinet's breath control in their long solo. On the positive side, Liu's playing had a crystalline clarity. Still, this was easily the slowest I have ever heard this movement played, and the tempo sucked the life out of it.
The Allegro scherzando finale got off to a good start, but the entry of the familiar second theme (the basis for the 1945 Frank Sinatra hit "Full Moon and Empty Arms") slowed it all to a crawl once again. Still, the final restatement of that theme at the end was tremendously effective.
My opinion aside, the performance was received with wild approval by the audience and led to an encore. Liu didn't announce the title, but I think it was Rameau's "Les tendres plaintes" (from the Suite in D Major in the Premier Livre de Pièces de Clavecin, in case you're keeping score), which he recorded in 2022 for Deutsche Gramophon.
Next: Anna Clyne and Wolfgang Mozart, together again for the first time.
Related Articles