Classical
Classical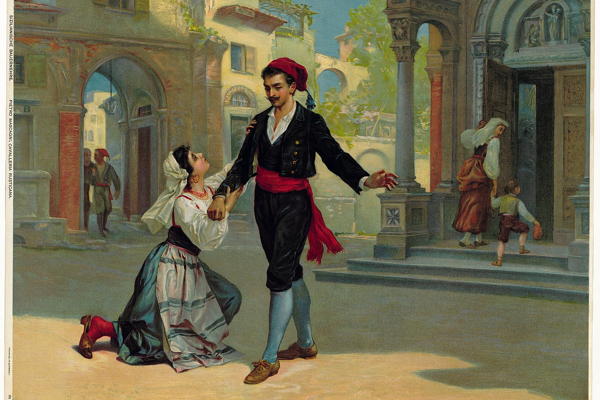 Symphony Review: Verismo Senza Verismo: Gaffigan paces enervated "Cavalleria Rusticana"
By Benjamin Torbert
[Find out more about the music with the KDHX symphony preview.]

The Saint Louis Symphony's itinerant 2023-24 season continued on Veterans' Day weekend, with concert performances, its first ever, of Pietro Mascagni's 1890 tinder box "Cavalleria Rusticana," at the Kiel—an actual opera house [nowadays named by its corporate sponsor, Stifel]. An unusual treat in the Gateway City, this—Saint Louis operagoers will know none of our three treasured small-to-medium sized opera companies dwell in a space intended for grand opera, playing the intimate confines of the Loretto-Hilton Center (OTSL), Union Avenue Christian Church (UAO), and various venues in mid-County (Winter Opera). In the last fortnight, one could observe the SLSO, or parts thereof, at three venues boasting better acoustics than Powell Hall, their home under renovation: the Sheldon, the Anheuser Busch Auditorium at UMSL's Touhill Center, and the Kiel. Concert opera has provided some of the Symphony's most exciting performances in the last decade, "Peter Grimes," "Aida," "Der Fliegende Holländer." A barn-burner of a work, a bejeweled venue, gifted personnel: what could go wrong? The musicmaking, it turned out. Maestro James Gaffigan led a curiously exsanguinated take on Mascagni's blood-n-guts one-act zinger, an opera that kicked off opera's verismo movement in earnest.
Like anything else, opera in concert comes with a battery of pros and cons, but a lot of pros. Along with not financing a staging, concert opera necessarily focuses even more intently on the music, especially the singing, which present-day operagoers and signers oft complain receives short shrift compared to direction and concept stagings. How many times, for example, has Lucia di Lammermoor had to sing her mad scene perched atop something weird? You can also produce concert opera in gradations—with music stands or without, with no real interaction between principals as in an oratorio, or some interaction, or even semi-staged. Too, the mode allows organizations to offer works they can't really afford to mount onstage due to scale—a work requiring too many sets, personnel, or horses—happily, Union Avenue will be giving Verdi's "Aida" in concert next summer. At a 75-minute runtime, "Cavalleria" isn't really that sort of work; staged, a co-ed chorus is needed, but you can skate with a single set consisting of a town square and a church façade, and a roster of just five principal singers. Therefore, choosing to perform the work in concert laser-focuses audience attention on the music, further raising the stakes musically. Here, the performance faltered, in failing to flow idiomatically with the intensity verismo requires.
"Cav," as we label it colloquially in operaland, unfolds with scarcely relenting dramatic momentum, its emotional violence and physical violence divided by the oft-excerpted, serene intermezzo, familiar to genpop from "The Godfather; Part III." Sourced from Giovanni Verga's (1840-1922) short story, we upgrade from the worn operatic commonplace of a love triangle to a love rhombus, and we move socially from opera's usual aristocrats and gentry to regular Sicilian country folk. The tenor, Turridu, has two-timed the mezzo-soprano Lola, and the soprano Santuzza—she, impregnated no less. The baritone Alfio, Lola's husband, learns what's up three-quarters through the opera, swearing vengeance on Turridu, whom he engages in a climactic offstage showdown, reported to us by the bloodcurdling screams of an unnamed woman. Boom, that's the show, all on Easter Sunday. Despite its brevity, "Cavalleria" really should tax the audience. Force equals mass times acceleration.
Gaffigan assembled the mass(es) but deprived us of acceleration. Principal singers interacted, but barely. Tenor Antonio Poli, the only native speaker of Italian, located himself at his music stand more than others. Balance was problematic from the outset; delivering his serenade "O Lola" from the wings (this is usual), Poli could scarcely be heard over the harp, and heard well onstage below forte only in passages where the orchestra gets out of the tenor's way. The principals were otherwise audible when situated downstage, but for the Easter Hymn, Santuzza and Mamma Lucia migrated to the chorus, behind the winds, which didn't foreground soprano Heidi Melton's soaring over the ensemble. Until the denouement, Gaffigan failed to create the sense of unstoppable momentum that drives "Cav"; the more frustrating then, when the respite, that absurdly pretty intermezzo, elapsed in a rush, with overactive, sawy bowings in the violins. The audience didn't interrupt to applaud—it sounded so much better under Stéphane Denève at September's rainsoaked free concert. Turridu's brindisi (drinking song) unfolded so ploddingly that when he later remarked to his mother that the wine was too strong, you wondered if he couldn't hold Boone's Farm. The superb SLSO chorus soldiered bravely under these conditions, but sounded as though tasked with an oratorio rather than an opera.
Among the principal singers Meredith Arwady impressed most, as Mamma Lucia. A veteran of OTSL and all the big North American opera companies, Arwady reminds listeners what a rare treat is hearing a for-real contralto; going toe-to-toe with the ominous low strings, she anchored the duet with Santuzza with pleasingly secure chest voice. Too, her vocal heft was necessary given the casting of Santuzza, dramatic soprano Heidi Melton. The role sees varied casting, medium-sized voices versus dramatic ones, sopranos as well as mezzos, but casting a dramatic soprano seems to require a hefty Mamma Lucia and Turridu to meet Santuzza. Melton sounded great in her lower register, but in higher passages the voice spread; Santuzza requires a high C (C6) and even on the A6 in "Voi lo sapete," Santuzza's big number, Melton's support dropped out. Occasionally flat in the duet with Alfio, she veered awfully close to a wobble. Melton, however, garnered the loudest applause come curtain calls. More effective was mezzo-soprano Katherine Beck as Lola. Beck's fulsome sound cut and seemed more audible in the loge with less volume. The libretto and score give Lola fewer lines and a difficult job, which is simultaneously to come across as both more virtuous and sexier than Santuzza, and on both counts Beck excelled in her delivery of Lola's burn on Santuzza about the Eucharist being intended only for those who have been absolved of sin.
Baritone Anthony Clark Evans' Alfio surpassed tenor Antonio Poli's Turridu. He offered a covered sound in Alfio's horsey aria "Il Cavallo Scalpita," but pleasant overtones made it to the balcony. In a performance generally lacking fire, he at least offered some kindling when swearing vengeance upon Turridu at the end of the tattletale duet with Santuzza. Poli struggled. Nearly inaudible when the orchestra spoke loudly, he receive scant aid from Gaffigan with a plodding tempo for the brindisi, which maestro had the band render less with Italianate verve than with an Anglophone saunter. The role of Turridu requires at least spinto weight, but a glance at Poli's recent roles places him in more copacetic repertory for his voice (Tamino, Fenton in "Falstaff," Nemorino). He's clearly capable of affecting singing: a diminuendo on "s'io non tornassi," when the orchestra quiets itself, created real pathos about his impending death. But overall, he shouldn't have been paired with large-voiced singers such as Arwady and Melton, and he occasionally got lost in his score. He did deliver some zest upon bidding his mother 'addio,' prior to the climactic knife fight.
Even the bits of light staging didn't quite work. Lola and Lucia's side trip to the chorus risers seemed pointless. While Poli shuffled off stage right at the end of his duet with Santuzza, the subtitles alerted us to Turridu throwing Santuzza to the ground, which is in fact what's supposed to happen. Melton overused the same gesture tossing her hands groundward to indicate Santuzza's growing frustration. I felt similarly during the often punchless performance; Gaffigan's orchestra underlined what might have been in the appropriately intense chromatic tumble closing the score—where was this all evening?
The SLSO retains another chance this coming April to shine in or next-door to opera, with Verdi's Requiem, this time with Music Director Denève on the podium. And given the 2020-to-2023 rescheduling of Berlioz' "La Damnation de Faust" this past spring, I harbor some hope that 2021's cancelled "Turandot" will soon reappear. Let no one sleep.
Next at the SLSO: Christian Reif conducts the St. Louis Symphony Orchestra and violinist Randall Goosby in the "Suita rustica" by Vítězslava Kaprálová, Erich Wolfgang Korngold's Violin Concerto, and Antonín Dvořák's Symphony No. 7. Performances are Friday at 10:30 am, Saturday at 7:30 pm, and Sunday at 3 pm, November 17 through 19, at the Touhill Performing Arts Center. The concert will also be broadcast Saturday night at 7:30 on St. Louis Public Radio and Classic 107.3.
Related Articles