Classical
Classical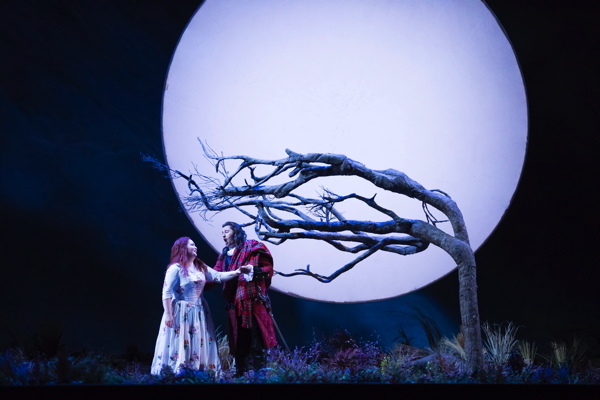 Spectacular singing takes center stage in Chicago Lyric's 'Lucia di Lammermoor'
By
Bel canto opera stands or falls on the strength of the singing, and by that standard Lyric Opera of Chicago's new production of Donizetti's 1835 tragedy Lucia di Lammermoor stands very tall indeed. From the starring roles down to the chorus, this is a cast that can handle the most demanding material with ease.  
And a good thing, too, because the score is one of Donizetti's richest and most dramatic. From the teeth-rattling choruses that conclude the second act, to the often imitated and even more often parodied aria "Il dolce suono" (a.k.a. "the mad scene"), to the legendary sextet -- a piece so famous that even the Three Stooges and the Warner Brothers cartoon crew knew they could make fun of it without losing the audience -- Lucia provides a treasure trove of great music. The Lyric cast does it full justice with a great performance.
Soprano Albina Shagimuratova is a radiant Lucia, handling Donizetti's most demanding passages with ease. Her mad scene was a thing of vocal beauty, wonderfully controlled and yet thoroughly expressive. Matching her in power and dramatic conviction is tenor Piotr Beczała as Lucia's tragic lover Edgardo, as effective in his tender love duets with Ms. Shagimuratova as he is in the violent Act III tower scene (which is, by the way, as good an example of testosterone poisoning as you'll find anywhere in operatic literature).  
His opponent in that tower scene is Lucia's scheming brother Enrico, sung with menacing force by baritone Quinn Kelsey. I don't think director Graham Vick's decision to make him a shambling drunk adds anything useful but it doesn't really detract either, so overall I can't complain.  
Somewhat less credible is Mr. Vick's decision to make the small role of Arturo -- whom Lucia is forced to marry with tragic results -- into a kind of foppish scarecrow with his arms permanently outstretched as though posing for a painting. It turns his sword fight with Edgardo into inappropriate low comedy. Tenor Jonathan Johnson looks and sounds great in the part, though, which helps.
Bass Adrian Sâmpetrean puts a sympathetic stamp on the role of the chaplain Raimondo. The character is the moral center of the opera and needs to be credible, especially in "Ah, cedi, cedi!" the Act II aria in which he persuades Lucia to agree to the arranged marriage with Arturo. Mr. Sâmpetrean fully delivers the goods.
Tenor Matthew DiBattista, who has done such great work here at Opera Theatre of St. Louis, once again rises to the occasion as the scheming Normanno, whose forged letter from Edgardo helps persuade Lucia to accept the marriage contract with Arturo. Mezzo Linsday Metzger has less vocal power than her fellow cast members but is otherwise a very appealing Alisa, Lucia's confidante.
In his director's note in the program book, Mr. Vick says that he sees Lucia as "a late-classical work." It's an interesting point, but given that the Romantic movement in music was well underway in 1835, I'm not sure I buy it. In any case, his implementation of that view appears to involve fairly static staging and a monochromatic set by designer Paul Brown that consists largely of multiple levels of gray flats that are used to represent all the indoor scenes, from the Great Hall at Lammermoor Castle to the tower of Edgardo's Ravenswood.  
Behind them is a "blasted heath" that Macbeth would have recognized, complete with a eerily crooked tree and an unnaturally large, featureless, and sometimes distractingly mobile moon. Mr. Vick seems fond of that heath, placing much of the opera's action there, even in scenes that are explicitly indoors, like the Act II wedding contract and Lucia's "mad scene." It's especially odd in the latter, since Lucia is supposed to be hallucinating the heath, not wandering about on it.
Mr. Brown's costumes, though, are right on the money. I thought decking the entire Bucklaw clan in blinding white and gold was a nice touch, contrasting strongly with the earth tones of the Lammermoors and Edgardo.
At the podium is Enrique Mazzola, an Italian conductor who, to quote his program bio, is "greatly admired internationally in bel canto." If his work here is any indication, that admiration is richly deserved, as he leads the Lyric Opera Orchestra in an assured and well-paced reading of Donizetti's score.  
Donizetti assigns an important narrative role to the choir, so Chorus Master Michael Black also deserves praise for the powerful and articulate sound of his singers.
The important point is that if bel canto is your thing, you can't go wrong with a production like this one in which all the musical elements are so strong. And despite my misgivings about some of Mr. Vick's decisions, there's no denying that this Lucia packs a real wallop overall. Performances of Lucia di Lammermoor continue through November 6 at at Lyric Opera's home in the magnificent Civic Opera House in the Chicago Loop.
Related Articles