Classical
Classical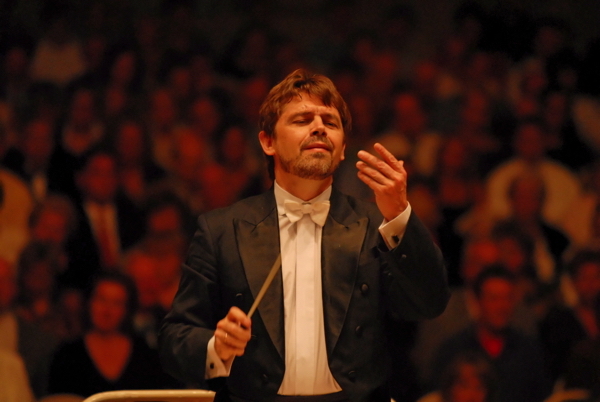 Andrey Boreyko and the St. Louis Symphony deliver a gripping performance of Shostakovich's deathbed symphony
By
"It's not where you start," runs a Dorothy Fields lyric from the 1973 musical Seesaw, "it's where you finish. It's not how you go, it's how you land." If the fifteenth and final symphony by Dmitri Shostakovich is any indication, the great Russian composer's own landing was bleak and despairing, but this past weekend's performance by the dynamic Russian conductor Andrey Boreyko and the St. Louis Symphony was gripping nevertheless.
That's impressive because Shostakovich's Symphony No. 15 in A major -- written in 1971 from a hospital bed as the composer was being treated for the lung cancer that would kill him four years later -- is not easy music for the listener or the performers. 
For the musicians, the Shostakovich fifteenth consistently calls for nothing but the best playing. That's because, although written for large orchestra with a massive percussion section, the symphony contains long stretches of delicately scored passages for solo instruments or small ensembles. There's nowhere to hide for musicians who aren't top drawer.
For the listener, the challenge is to accept the music's many outpourings of anguish without being overwhelmed by them. This was the final big statement by a man who had survived all the horror the Soviet Union could throw at him, and it's filled with remembered desolation. Uplifting socialist realism is nowhere to be found.
Fortunately, the musicians of the St. Louis Symphony were more than up to the challenges Shostakovich created. Under Mr. Boreyko's skilled baton -- or just his hands, for the more delicate passages--they played their hearts out in flawless, virtuoso performances. 
There was wonderful work here by Principal Flute Mark Sparks (most notably in the first movement), Principal Clarinet Scott Andrews, and Principal Bassoon Andrew Cuneo. Ditto Principal Trombone Timothy Myers in his long second movement solo. In that same movement, Principal Cello Daniel Lee brought out all the anguish in the solo that pushes the instrument to the very top of its range. Concertmaster David Halen demonstrated his skill in multiple passages, as did Principal Bass Erik Harris.
Shostakovich gives an important role to the percussion section, mostly notably in the enigmatic coda in which castanets, snare drum, wood block, xylophone, and triangle clatter away in what sounds to me like a reference to the hospital machinery that was probably in the background as the symphony was written. Principal William James and the rest of his crew brought it all to life brilliantly.
For his part, Mr. Boreyko pulled everything together in an absolutely riveting interpretation that honored both the sound and the silence of Shostakovich's enigmatic sonic tapestry. The pain, the nostalgia, and the sarcasm all came through powerfully. So did the dark humor of the first movement (originally subtitled "The Toyshop") with its not-quite-funny quotes from Rossini's William Tell Overture. And the final percussion toccata was appropriately chilling. Mr. Boreyko paused at the end just long enough for everyone to hear the silence.
The concerts opened with a positively dynamic reading of that Rossini overture, distinguished by a fine cello solo from Daniel Lee and an especially fiery coda that accelerated to a breakneck finish. I think it must be difficult to put one's own stamp on a piece as famous (and frequently parodied) as the William Tell Overture, but Mr. Boreyko did so nevertheless.
Between the Rossini and Shostakovich, Mr. Boreyko and soloist Till Fellner gave us a delightfully crisp and graceful performance of the Piano Concerto No. 2 in B-flat major, Op. 19, by Beethoven. Written before but published after the Concerto No. 1, it marks the beginning of Beethoven's dual careers as pianist and composer of concerti for his instrument of choice. The influences of Mozart and Haydn are easy to hear, but ultimately it's all Beethoven. That's particularly obvious in the dramatic cadenza, written around 14 years after the concerto.
Soloist Till Fellner did especially well by that cadenza, positively burning up the keyboard. He and Mr. Boreyko were every bit as compelling in the rest of their performance, which included a heartfelt Adagio and a glittering, jolly Rondo finale. Mr. Fellner's program bio refers to his "scrupulous musicianship, purity of style, and sparkling keyboard command" and, while it's usually best to take such things with a grain of salt, I have to say I heard all of those qualities in this very gratifying reading.
Next at Powell Hall: David Robertson conducts the St. Louis Symphony Orchestra and trumpet soloist Håkan Hardenberger on Friday and Saturday at 8 p.m. and Sunday at 3 p.m., January 27-29. The program consists of Beethoven's Seventh Symphony, Copland's Appalachian Spring Suite, and the local premiere of Fisher King (Trumpet Concerto) by contemporary Norwegian composer Rolf Wallin. 
Related Articles