Classical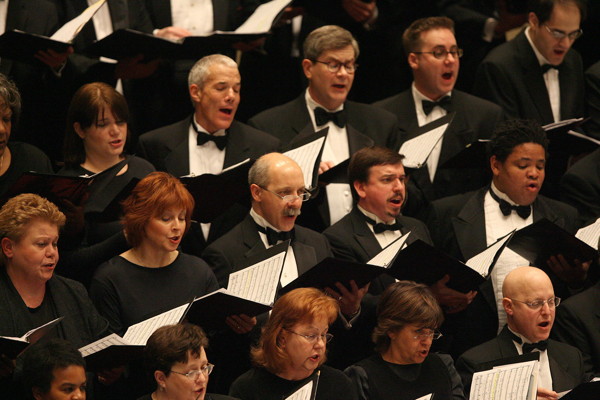 Beethoven's difficult 'Missa Solemnis' poses no difficulties for the St. Louis Symphony Orchestra and Chorus
The reverent and magisterial performance of Beethoven's Missa Solemnis by David Robertson and the St. Louis Symphony Orchestra and Chorus on Saturday, November 18th, reminded me of what a challenging piece was when it was first performed back in 1824--and still is today.
For singers, it's something of a marathon. Running around 75 minutes or more, it's the longest concert piece Beethoven wrote and the chorus sings for nearly all of it. The four soloists often do little more than add emphasis. Add in the fact that Beethoven was not especially adept at writing for the human voice and you have a work that can be a tough nut for vocalists to crack.
It's a challenge for listeners as well. The musical structure is large and ungainly, with a tendency to ramble. In his book Nineteenth-Century Romanticism in Music, British musicologist Rey M. Longyear went so far as to dub the Missa Solemnis as "one of the greatest failures in the history of music." "Despite its sublime moments," he wrote, "especially in the outer movements (Kyrie and Agnus Dei), the work is uneven, even patchy, and the overlong conclusions of the Gloria and Credo simply stupefy rather than edify."
I wouldn't go that far, but I must admit that this is a piece that sometimes conjures up a bewildering variety of sonic environments. This is music that looks back to the counterpoint of the Baroque but also forward to the massive sound blocks of Bruckner. It's ancient and modern, reverent and raucous.
So, yeah, the Missa Solemnis is a real workout for both the performers and the audiences. It is, therefore, a real tribute to Mr. Robertson and the SLSO that they did such a fine job with it when I heard it Saturday night.
The Kyrie was every bit as sublime as Mr. Longyear says it is, beginning with a deliberate tempo and building to an imposing climax that prepared us for the power of the Gloria that followed. The big fugue on "in Gloria Dei Patris. Amen." may, indeed, be longer than necessary, but the chorus certainly sang it with authority and clarity.
The central Credo that followed is the very heart of the piece and benefitted from heartfelt performances by the soloists: soprano Joélle Harvey and bass-baritone Shenyang (both so remarkable in the San Francisco Symphony's Missa Solemnis in 2015), mezzo Kelley O'Connor, and tenor Stuart Skelton. All four have operatic experience, a fact very much apparent in the way they invested the "Crucifixus etiam" section with real anguish. They're strong singers--perhaps a bit too strong in Mr. Skelton's case, as his Wagnerian heldentenor sometimes overwhelmed his fellow soloists. The chorus once again sang heroically here, especially in the massive double fugue that concludes the movement.
The Sanctus featured soaring vocals from Ms. Harvey and Ms. Skelton on "pleni sunt coeli" and the entire quartet blended nicely with Concertmaster David Halen in what Sir Donald Francis Tovey (quoted in Christopher H. Gibbs's program notes) called an "aria-concerto of violin, voices, and orchestra." This is another one of those sublime moments, and Mr. Halen has never sounded better.
The concluding Agnus Dei is probably the most obvious example of Beethoven's colliding sound worlds, including the juxtaposition of sharply contrasting textures like the noisy "battle music" that pops up in the middle of the calls for peace and an idiosyncratically low key finale. Once again, Mr. Robertson and his forces made it work, bringing this difficult but important masterpiece to a satisfying conclusion.
The SLSO's performances of the Missa Solemnis on Saturday and Sunday, November 18th and 19th marked the last time David Robertson will conduct the chorus before his tenure as Music Director ends in the spring of 2018. It was, I expect, a moving experience for the members of the chorus and, in fact, Chorus Master Amy Kaiser did seem to be holding back tears as she took her much-deserved bows Saturday night.
Next at Powell Hall: Jun Märkl conducts the orchestra with soloists Karen Gomyo, violin, and Catalina Cuervo, soprano, Friday and Saturday at 8 pm and Sunday at 3 pm, November 24 - 26. The concert consists of Ravel's Alborada del gracioso, Sarasate's Carmen Fantasy, Chausson's Poéme, Falla's El amor brujo Ballet Suite, and Ravel's Bolero. The performances take place at Powell Hall in Grand Center.
Related Articles