Classical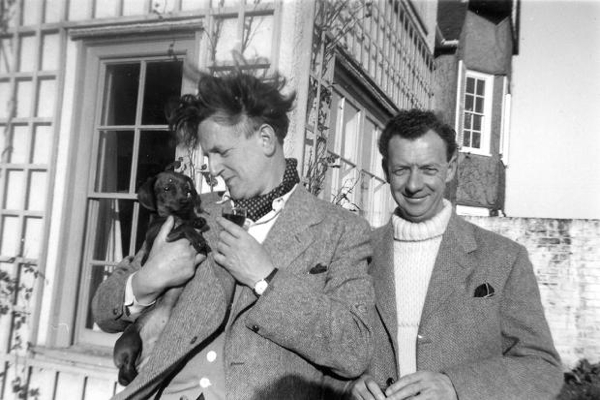 Symphony Preview: All the news that's fit to play
In the introduction to his chapter on Shostakovich in the 1967 Penguin Books edition of The Symphony, British musicologist Robert Layton described the Russian symphonist somewhat dismissively as a "documentary composer, far more bound up with this time than...Prokofiev, or any other of his Soviet contemporaries."
These days that would probably be a minority view. Yes, Shostakovich was heavily influenced by the economic and political turmoil that characterized 20th century Russian history. How could it be otherwise? But even in the early Symphony No. 1, which David Robertson and the St. Louis Symphony Orchestra will perform this weekend (January 12 and 13, 2018), you can hear how he transmuted those external experiences into a sound that was uniquely his own.
Written as a Leningrad Conservatory graduation piece and first performed in 1926 (when the composer was only 19), Shostakovich's First Symphony is a remarkable study in contrasts, with chamber music-style solo passages cheek by jowl with the full-tilt bombast of the composer's more popular works. Perky melodies reminiscent of the stuff Shostakovich probably heard during his work as a cinema pianist pop up in the first and second movements, standing in stark juxtaposition to the brooding and sporadically anguished gloom of the third. There's a piano part that calls to mind Stravinsky's Petrushka. And the final Allegro molto wraps everything up in a classic flourish of brass and percussion, reflecting the young composer's brash confidence while still retaining the sense of sarcasm that is always just below the surface.
It is, in short, a collage of external influences unified by Shostakovich's unique sensibility. It's not a documentary, it's art, even if it's a bit rough around the edges.
Also on the program is a piece that Mr. Layton might also have considered a "documentary" work in that it was inspired by the geopolitical news of the day. It's the Violin Concerto Op. 15, written by Benjamin Britten in 1938 and 1939 and later revised in 1950. Composed for Spanish violinist Toni Brosa, the concerto reflects the composer's sorrow over the Spanish civil war, which tore the nation apart from 1936 to 1939, ending with the triumph of Franco's brutal fascist regime.
Britten was very fond of the work. "It is without question my best piece," he observed. "It is rather serious I'm afraid." That was putting it mildly. Running around 40 minutes, the concerto is a dramatic and sometimes disturbing piece that combines fierce technical challenges with strong emotional content.
The concerto opens with a short (five note) figure on the tympani (a possible reference to the opening of Beethoven's Violin Concerto) that's soon joined by an anguished, ascending theme on the violin. The two ideas dominate the rest of the movement, sometimes in opposition to each other, sometimes joined so closely that it's hard to tell them apart. The second movement is a wildly virtuosic scherzo that feels like one of Hieronymus Bosch's creepier paintings set to music. It's almost monothematic, based largely on a triplet figure that's first stated by the violin and then gurgles away in the bassoons before moving on to the rest of the orchestra.
A cadenza leads to the final movement. Marked "Andante lento," it's a passacaglia (a series of variations on a repeating theme in the bass line) that drips with anguish. "I began to feel as if I was in a massive church," writes Ben Hogwood in his Good Morning Britten blog, "the horns intoning a chant that gets taken up by the strings, as if the orchestra is slowly standing in response to the soloist's pleas for peace. Here the music sounds more like Shostakovich than any Britten so far, but at no point is it derivative. The closing notes are, in a sense, infuriating, because Britten deliberately plays between the major and minor key. The home 'note' of D isn't in question, but he creates continued uncertainty by refusing to resolve, and that stays with the listener afterwards".
Much, I imagine, like the uncertainty about the future one might feel when one's country has fallen under the heel of fascism.
"It's quite demanding, definitely," notes violinist Janine Jansen in a 2010 interview for violinist.com about her recording of the concerto with Paavo Järvi and the London Symphony. "There are some places, like the Scherzo, in the second movement, where it's very fast and there are a lot of double stops, and even double-stop harmonics. So it's quite tricky...But it is written so well, it's really an amazing piece to play, even with its difficulties. One doesn't think about it during the performance because one is so taken by the music and especially, for me, the end of the piece. The whole coda --this is the most impressive moment. It starts like a prayer, but it ends in a kind of scream, it's incredible. Every time one plays it, one can't move afterwards, physically and emotionally."
The soloist this weekend is Augustin Hadelich. I last heard him here in 2013 in a performance of Paganini's Violin Concerto No. 1 that combined virtuoso flash with real emotional sensitivity. He'll certainly need both of those skill sets for the Britten concerto.
The concert opens with a newly assembled suite from the 1995 chamber opera Powder Her Face by contemporary British composer Thomas Adès. The opera is based on the life of Margaret Campbell, Duchess of Argyll (1912-1993), whose elegant and fashionable life took a bizarre turn after a near-fatal fall down an elevator shaft in 1943. She emerged from the ordeal with no sense of smell or taste and a voracious sexual appetite--a great deal of which was on display in the notorious 1963 divorce trial that ended her marriage to Ian Douglas Campbell, 11th Duke of Argyll. A lavish lifestyle and bad investments eventually led to a penniless death but (to quote a Tom Lehrer lyric about a very different historical figure) "the body that reached her embalmer / was one that had known how to live."
The suite, a 2017 co-commission by the SLSO along with four other notable orchestras and Carnegie Hall, consists of three dance episodes from the opera (published in 2007 as Dances from Powder Her Face and performed by the SLSO in October 2013) along with five additional movements. The original scoring for a 15-piece pit orchestra has been expanded to symphonic proportions, with a large percussion battery that includes a pop gun, a washboard, two whips (!) and a paper bag.
"I'm not making this up, you know," as Anna Russell once said.
The Essentials: David Robertson conducts the St. Louis Symphony Orchestra and violin soloist Augustin Hadelich Friday at 10:30 am and Saturday at 8 pm, January 12 and 13. The concerts take place at Powell Symphony Hall, 718 North Grand in Grand Center.
Related Articles