Classical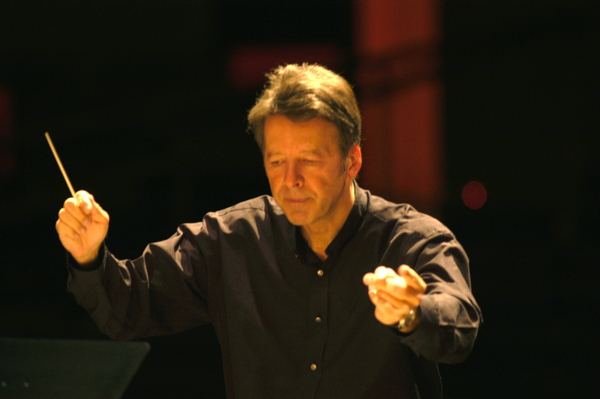 Symphony Preview: Everything old is new again
The big draw for the St. Louis Symphony Orchestra concerts this Friday and Saturday (January 26 and 27, 2018) is clearly Mendelssohn's popular 1844 Violin Concerto, with Lithuanian conductor and violinist Julian Rachlin in the solo spotlight and David Robertson conducting. The music on the rest of the program, though, is more recent--and that's what will be the focus of this preview.
How recent? Well, the concerts open the US premiere with Elegie: Remembrance for Orchestra by German composer Peter Ruzicka, which had its world premiere in 2016 by the Staatskapelle Dresden with our own David Robertson on the podium. And the entire second half of the evening consists of Harmonielehre, a sprawling 40-minute piece for large orchestra by John Adams that was first performed by the San Francisco Symphony in 1985. The SLSO gave the work its local premiere in 2005 and recorded it in 2007.
Ruzicka's Elegie is a short (nine-minute) work for strings along with three flutes and percussion that's based on 13 bars of piano music that Richard Wagner wrote just before his death. I'd like to tell you something about what Elegie sounds like, but it's so new that there are simply no recordings available--or none that I can find, anyway. Even that great repository of copyright violations and unofficial recordings, YouTube, has nothing. Fortunately, René Spencer Saller is able to quote the composer's own words for us in her program notes:
The last 13 bars that Richard Wagner wrote and played for his friends at the Palazzo Vendramin on the evening before his death are a declaration of love for [his wife] Cosima in the form of a mysterious question. The Elegie appears like a musical self-observation referring, as from afar, to Tristan and the circumstances surrounding its composition. Wagner's piano sketch has occupied me for a long time. Its openness and indefiniteness caused me to pursue the thought, and to undergo a highly personal musical rapprochement and distancing. For this, I selected the sonic potential of a string orchestra, underlain by the impulses and "shadowy sounds" of three flutes and percussion. Wagner's question ultimately remains. And it still seems unanswerable, even today.
After reading that a few times, I'm still not at all sure what to expect. The "Tristan" he mentions is Wagner's 1857 opera Tristan und Isolde, a work notable, as I wrote a few years ago, for both its Freudian erotic subtext and the way in which its opening chord anticipated the expanded harmonic palette of post-Wagnerian composers like Richard Strauss and Mahler.
The expansion eventually led to an active hostility to conventional notions of harmony and melody that is still more popular than it probably deserves to be in some compositional circles. What that might have to do with what we will hear this weekend, though, is not at all clear.
What is clear to me, after having listened to some of Mr. Ruzicka's other work, is that he doesn't seem to have much use for those conventional notions of harmony and melody even though, as his anonymous biographer at ArchivMusik notes, he often uses music by composers of the past as jumping-off points for his own works. His 1990 Metamorphoses for Large Orchestra, for example, has a kind of eerie stillness and a suspension of the usual concept of time that I associate with the work of Bruckner. His 1972 Feed Back, on the other hand, sounds like an explosion in a metal foundry combined with sound effects that wouldn't sound out of place in a Carl Stallings cartoon score. From his description, it sounds like Elegie might resemble the former more than the latter, but we'll see.
Mr. Ruzicka himself is an interesting character. Born in 1948 in Düsseldorf and currently professor of music at the Hochschule für Musik und Theater in Hamburg, his resume has the usual list of awards and notable job postings you see with any composer whose work has become prominent enough to capture the attention of major orchestras. What's less typical is that his education included studies in theater and law. The latter led to a law doctorate in 1977. As Chauncey used to remark to Edgar on The Bullwinkle Show, that's something you don't see every day.
Whatever the Ruzicka work sounds like, it will almost certainly be different from John Adams's Harmonielehre. The title refers to the music theory book of the same name by Arnold Schoenberg, the inventor of serialism and the teacher of Mr. Adams's teacher Leon Kirchner. Since Mr. Adams explicitly rejected serialism, the title can be seen as a kind of ironic declaration of independence from the 12-tone row.
If you're heard any of the other works by Mr. Adams which David Robertson and the SLSO have performed locally, you will know what to expect. Adams himself, who always writes with impressive clarity, describes the piece as:
a large, three-movement work for orchestra that marries the developmental techniques of Minimalism with the harmonic and expressive world of fin de siècle late Romanticism. It was a conceit that could only be attempted once. The shades of Mahler, Sibelius, Debussy, and the young Schoenberg are everywhere in this strange piece. This is a work that looks at the past in what I suspect is "postmodernist" spirit, but, unlike Grand Pianola Music or [the opera] Nixon in China, it does so entirely without irony.
This is big, dramatic music that has its origins not in the arid mathematical world of serialism but in the more romantic world of dreams and Jungian psychology. The dramatic opening and closing movements, as a result, are musical realizations of dreams that Mr. Adams had when composing the work, while the middle movement, titled "The Anfortas Wound," is explicitly Jungian. In composing it, Mr. Adams notes that he "was deeply affected by Jung's discussion of the character of Anfortas, the king whose wounds could never be healed. As a critical archetype, Anfortas symbolized a condition of sickness of the soul that curses it with a feeling of impotence and depression."
Sandwiched between the contemporary sounds of Ruzicka and Adams will be the Mendelssohn concerto, a favorite of audiences for generations. The SLSO first performed it back in 1912. The soloist that first time was Albert Spalding, but when the orchestra played it in 1914 the soloist was none other than the noted virtuoso and composer Fritz Kreisler. Tickets for the princely sum of $1 and $2 were available, as the vintage program page reproduced in this week's program advertises, at the Main Floor Gallery of Famous-Barr.
The Essentials: David Robertson conducts the St. Louis Symphony Orchestra and violin soloist Julian Rachlin Friday and Saturday at 8 pm, January 26 and 27. The Saturday night performance will be broadcast, as usual, on St. Louis Public Radio. On Sunday at 3 pm, the orchestra is joined by The 442s and Compositions for L.I.F.E. for Rapped and Remixed, a modern-day twist on Prokofiev's Romeo and Juliet ballet score. Performances take place at Powell Symphony Hall, 718 North Grand in Grand Center. For more information: stlsymphony.org.
Related Articles