Classical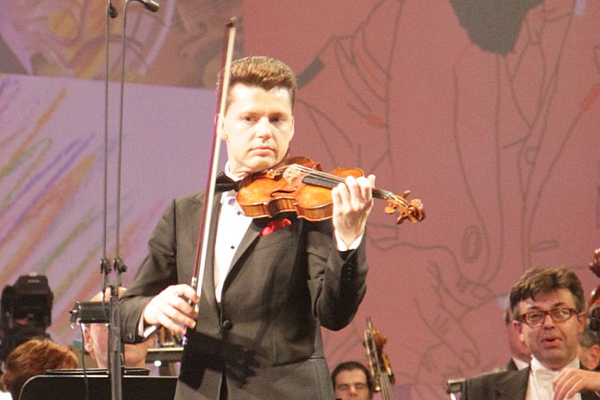 Review: Unexpected beauty with Julian Rachlin and the St. Louis Symphony Orchestra
There was a sparse crowd for David Robertson and the St. Louis Symphony Orchestra concert Friday night (January 26, 2018), presumably because the program was heavily weighted towards newer music. That's a shame, because those who stayed away missed the USA premiere of the moving 2016 Elegie: Remembrance for Orchestra by Peter Ruzicka, a highly personal take on Mendelssohn's Violin Concerto by Julian Rachlin, and Harmonielehre, the first big, multi-movement orchestral work by John Adams.
"Beautiful" is a word I find myself applying all too rarely to much of what has been written for the concert hall in the last half-century or so, but beautiful is exactly what Mr. Ruzicka's Elegie is. Inspired by the "Porazzi theme," an enigmatic 13-bar fragment that Richard Wagner is said to have written the night before he died, the Elegie is scored for percussion, three flutes, and a string ensemble in which each player has a slightly different melodic line..
That sounds like a gimmick and rather looks like one, since the resulting score is around 3 feet tall and requires an extra-large podium, but the sound is breathtaking. The music begins so softly that it's almost inaudible and then, for the next nine minutes, alternates between sharply dissonant passages and bits of Wagner's original melody in a more conventional harmonic form. The music rises to a climax and then slowly subsides to a quiet, resigned conclusion, like the final breath of life. It was magical, and I'd be happy to hear it again.
Which is something I also don't find myself thinking very often about recent music.
Up next was the Mendelssohn Violin Concerto, a piece which is so well known that performances of it can become, as Mr. Robertson wryly observed in his pre-concert talk, a kind of "musical wallpaper." It's a fair point; it has been played so many times by so many great musicians that it can be difficult for any one performer to make us listen to it with fresh ears.
And yet, that's exactly what soloist Julian Rachlin did Friday night. Decked out in a double-breasted tux, black tie, and red pocket square, Mr. Rachlin cut a dashingly retro Fritz Kreisler-esque figure on the stage, and played with an idiosyncratic style that created the illusion of improvising the music on the spot rather than playing a work written over 160 years ago. This was especially apparent in the first-movement cadenza, with its wide dynamic range and marked dramatic contrasts.
Mr. Robertson had said earlier that what he liked most about Mr. Rachlin was that the violinist seemed to actually speak via his instrument. And, in fact, what we got from Mr. Rachlin Friday night was as much a conversation with Mr. Robertson and the orchestra as it was a performance. Closely attuned to Mr. Robertson and the band, Mr. Rachlin delivered a subtly shaded reading that made this venerable warhorse sound almost new, and did it with impeccable virtuosity.
I loved it, and so did the rest of the audience, who applauded long and enthusiastically enough to warrant an encore: Eugene Ysaÿe's dramatic Sonata No. 3 for solo violin. At nearly seven minutes, it was a lengthy choice for an encore, as well as a technically challenging one, and was very well received.
The second half of the concert was devoted to John Adams's Harmonielehre. The title refers to the music theory book of the same name by Arnold Schoenberg, the inventor of serialism and the teacher of Mr. Adams's teacher Leon Kirchner. Since Mr. Adams explicitly rejected serialism, the title can be seen as a kind of ironic declaration of independence from the 12-tone row. The work was also an attempt to find some kind of rapprochement between the simplicity of minimalism and the harmonic richness that Wagner (also Mr. Ruzicka's source of inspiration) created in his later works, mostly notably Tristan und Isolde, with its famed opening chord.
This is big, dramatic music that has its origins not in the arid mathematical world of serialism but in the more romantic world of dreams and Jungian psychology. The dramatic opening and closing movements, as a result, are musical realizations of dreams that Mr. Adams had when composing the work, while the middle movement, titled "The Anfortas Wound," is explicitly Jungian. In composing it, Mr. Adams notes that he "was deeply affected by Jung's discussion of the character of Anfortas, the king whose wounds could never be healed. As a critical archetype, Anfortas symbolized a condition of sickness of the soul that curses it with a feeling of impotence and depression."
Mr. Robertson and the SLSO have performed and recorded Harmonielehre (for the orchestra's Arch Media label) in the past, so the high quality of Friday night's performance was no surprise. I have never been a big fan of Mr. Adams's style, but even I was swept away by the power of this music. That second movement--with its meandering theme that rises, falls, and never goes anywhere--was the epitome of despair. And the final moments of the last movement, with Principal Horn Thomas Jöstlein and the rest of his section playing pavillons en l'air (bells up, to get a more potent sound), were just plain thrilling.
Up next: members of St. Louis Symphony perform next at the Pulitzer Foundation, with concerts of chamber works by George Crumb, Toro Takemitsu, and Kaija Saariaho on Tuesday and Wednesday, January 30 and 31. The full orchestra plays at Powell Hall Friday at 10:30 am and Saturday at 8 pm, February 2 and 3, with an all-French program under the baton of Music Director Designate Stéphane Dèneve.
Related Articles