Classical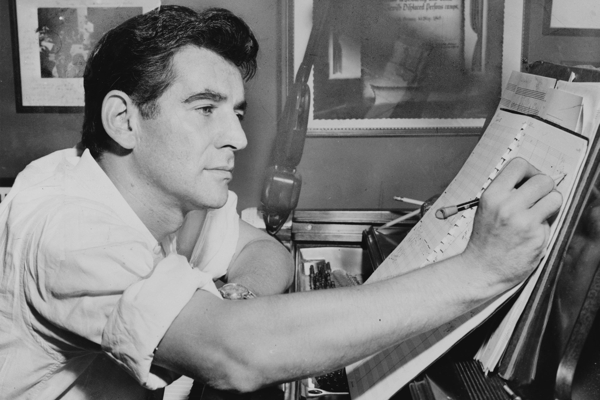 Symphony Preview: He cared if you listened
Written by

Chuck Lavazzi
This weekend (February 9 - 11, 2018), the guest conductor Bramwell Tovey leads the St. Louis Symphony Orchestra, Chorus, and Children's Chorus in a program of two great works for chorus and orchestra-one sacred and one profane.
The sacred is represented by Leonard Bernstein's infrequently heard Chichester Psalms, last performed by the SLSO nearly 16 years ago. The work was commissioned in 1963 by the Very Rev. Walter Hussey (Dean of Chichester Cathedral in Sussex, England) for a 1965 music festival at the cathedral, although its actual premiere took place at a July 15, 1965 New York Philharmonic concert with Bernstein at the podium. That performance was not recorded as far as I know (although Bernstein did a studio recording with the NY Phil at around that time), but a 1977 performance by Bernstein and the Israel Philharmonic in Berlin was recorded on both audio and video, and is available on YouTube.
The piece runs around 20 minutes and is scored for boy soprano or countertenor, solo quartet, choir and orchestra (3 trumpets in B flat, 3 trombones, timpani, percussion, 2 harps, and strings). Bernstein also wrote a pared-down version in which the orchestra was replaced with organ, one harp, and percussion (presumably to make it more accessible to church-based music groups) but we'll be hearing the original this weekend.
René Spencer Saller provides a very detailed analysis of the music in her program notes. The only thing I can add is to note that this is a work that is quintessentially Bernstein. The rhythmic drive, the sense of yearning, the smart orchestration, the touch of dissonance-it's all there. You couldn't possibly mistake it for the work of anyone else.
About that touch of dissonance: when Bernstein was writing the Chichester Psalms in the early 1960s it was utterly unfashionable, in the classical music world, to compose in a style that actually sounded like most of what the Western world had thought of as musical for the past several centuries. Serialism was all the rage. Increasing complexity and a disregard of traditional ideas of harmony was seen as a kind of ideological imperative.
Music, as composer Milton Babbitt insisted in his controversial essay "Who Cares if You Listen?" (published almost exactly 70 years ago, in the February 1958 High Fidelity) had to "evolve," and it could do so only by abandoning any attempt to actually communicate with an audience. "I dare suggest," he wrote, "that the composer would do himself and his music an immediate and eventual service by total, resolute, and voluntary withdrawal from this public world to one of private performance and electronic media, with its very real possibility of complete elimination of the public and social aspects of musical composition". Ineed, the very definition of what constituted music had been stretched to the point where John Cage could "write" a piece titled 4'33" ("four minutes and 33 seconds") that consisted of nothing but the audience sitting quietly and listening to environmental sounds for four minutes and 33 seconds. And it was taken seriously.
Against that backdrop, the immediate appeal of the Chichester Psalms was, to say the least, heretical. Bernstein understood as much when he wrote the following bit of verse for the October 24, 1965 edition of the New York Times:
For hours on end, I brooded and mused
On materiae musicae, used and abused
On aspects of unconventionality
Over the death in our time of tonality…
Pieces for nattering, clucking sopranos
With squadrons of vibraphones, fleets of pianos
Played with forearms, the fists and the palms
And then I came up with the Chichester Psalms.
These psalms are a simple and modest affair
Tonal and tuneful and somewhat square
Certain to sicken a stout John Cager
With its tonics and triads in E flat major
But there is stands-the result of my pondering
Two long months of avant-garde wandering
My youngest child, old-fashioned and sweet
And he stands on his own two tonal feet.
I could (but won't) go on about how Mr. Babbitt got both biological evolution and the nature of music wrong, but for now let's just note that Mr. Bernstein did care if we listened, and history has come down firmly on his side.
The second half of this weekend's program will be taken up with Carl Orff's 1936 "scenic cantata" Carmina Burana. It's a piece that has been performed many times here over the past several years, most recently in a fully staged version by the Nashville Ballet in 2015. The SLSO last did it in May, 2014 with Carlos Izcaray on the podium.
I wrote extensively about the work back then, so rather than repeat all that here, I'll just invite you to take a look at the preview I wrote for that concert. The SLSO program notes have some good stuff in them as well. The important thing is that the piece that British critic Richard Osborne once described as "the best known new composition to emerge from Nazi Germany" is an irresistible celebration of live, love, drinking, eating, and sex.
It's also about how the wheel of fortune is always turning and that none of us should get too cocky, as the universe has a tendency to dope-slap the excessively smug-a lesson we should perhaps bear in mind in the USA right now.
The Essentials: Bramwell Tovey conducts the St. Louis Symphony Orchestra, Chorus, and Children's Chorus Friday and Saturday at 8 pm and Sunday at 3 pm, February 9 - 11. The concerts take place at Powell Symphony Hall, 718 North Grand in Grand Center.
Related Articles