Classical
Classical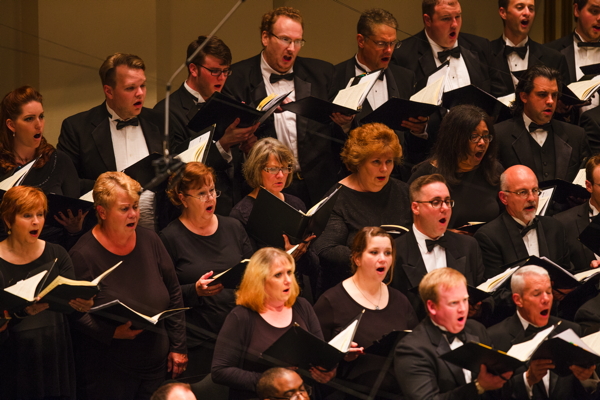 Review: The St. Louis Symphony Chorus comes on strong in music by Bernstein and Orff
By Chuck Lavazzi
It was a gala festival of the human voice this past weekend (February 9 - 11) at Powell Hall as Bramwell Tovey conducted the St. Louis Symphony Orchestra, Chorus, and Children's Chorus in two great 20th century works for chorus and orchestra--one of which is by a composer whose centenary the music world is celebrating right now.
That composer is Leonard Bernstein. Born in 1918, the famed conductor, composer, and media personality didn't produce a huge catalog of works, and not all of them have aged well. But when he was at the top of his game, he produced appealing music of tremendous power. And he was definitely at the top of his game when he wrote the opening work in last weekend's concerts, the 1965 Chichester Psalms.
Scored for "treble" voice (boy soprano/contralto or countertenor), solo quartet, choir, and orchestra, the work is quintessentially Bernstein with its yearning melodic lines, theatrical flourishes, and just enough dissonance to add spice without assaulting one's ears. It's a beautiful and moving plea for peace that feels every bit as timely now as it was over sixty years ago.
In her pre-concert remarks, SLSO Chorus director Amy Kaiser noted that the Chichester Psalms presents significant linguistic and musical challenges. The psalms are sung in Hebrew (not a language often encountered in the classical world) and the music uses unconventional time signatures like 7/4 and 10/4, which create a sense of urgency but can be difficult to sing. Her singers handled it all beautifully, though, with a seamless sonic blend and all the power a person could wish for. The brief SATB (soprano, alto, tenor, bass) quartet section towards the end was wonderfully clear, as was the lovely a cappella finale.
Vocal soloist Devin Best's voice had an ethereal clarity in the second movement, with its setting of the well-known 23rd Psalm ("The Lord is my shepherd"), but even with amplification it was sometimes difficult to hear him.
A former student of Bernstein, Mr. Tovey conducted with an impressive feel for the theatricality of this music, and the orchestra responded with expert playing. The string sound, in particular had a wonderful richness, and there were lovely solo moments from Associate Concertmaster Heidi Harris along with cellists Melissa Brooks (the Associate Principal) and Anne Fagerburg.
It has been almost 16 years since the SLSO has tackled the Chichester Psalms, but I hope we don't have to wait that long to hear it again.
For most of the audience last weekend, I expect, big draw was the second work on the program, Carl Orff's 1936 "scenic cantata" Carmina Burana. It's a piece that has been performed many times here over the past several years, most recently in a fully staged version by the Nashville Ballet in 2015. The SLSO last did it in May, 2014 with Carlos Izcaray on the podium.
Mr. Tovey's was possibly the most unabashedly theatrical interpretation of the piece yet, and while I'm not convinced that all of his decisions were the best ones, there's no denying that this was a very exciting and entertaining Carmina Burana overall. He made smart use of dramatic pauses and wasn't shy about playing with tempos here and there. He brought out more of the bawdy humor in some of the poems than some conductors have in the past, most notably in the "In Taverna" (In the Tavern) section, and had the baritone and soprano soloists play a steamy love scene at the conclusion of "Cour D'Amours" (Court of Love).
That could have come across as artificially stagey, but the soloists made it work. Baritone James Westman and soprano Tracy Dahl clearly had great fun with their romantic scene, and Ms. Dahl handled the absurdly difficult upward glissando in "Dulcissime" with easy elegance. Mr. Westman's comically inebriated abbot in "Ego sum abbas" was a real crowd pleaser as well.
The tenor has only one number, but done properly "Olim lacut colueram"--a macabre number sung from the point of view of a roasted swan about to be eaten--is a neat little musical horror show. The melody lies at the very top of the tenor range, often forcing the singer into his falsetto, but Benjamin Butterfield sounded completely at ease with it. I'm not persuaded that playing the piece mostly for laughs, complete with avian shakes of the head and arms, really does the text justice, but Mr. Butterfield did it extraordinarily well.
The bulk of Carmina Burana, though, is carried by the chorus, which has to sing in Latin, Middle High German, and Old Provençal, and do it consistently for an entire hour. When we heard them Friday night, their articulation was crisp and clean and the sound well balanced. The Children's Chorus was in fine collective voice as well.
Next at Powell Hall: Singer/songwriter Rufus Wainwright performs with the St. Louis Symphony Orchestra on Friday, February 16, at 7:30 pm. Then Matthew Halls conducts the orchestra and clarinet soloist Scott Andrews (SLSO Principal Clarinet) Saturday at 8 pm and Sunday at 3 pm, February 17 and 18. The program consists of Schubert's Symphony No. 3, Carl Maria von Weber's Clarinet Concerto No. 1, and Mendelssohn's Symphony No. 1 (written when the composer was 15). The concerts take place at Powell Symphony Hall, 718 North Grand in Grand Center.
Related Articles