Film Reviews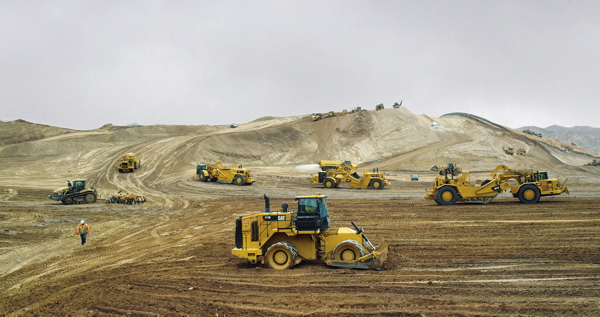 'Earth' offers a global tour of environmental alteration
Written by

Diane Carson
Austrian director Nikolaus Geyrhalter's documentary "Earth" begins with astonishing, terrifying statistics before any image appears. "Every day, sixty million tons of surface soil are moved by river, wind and other forces of nature. Humans move 156 million tons of rock and soil per day, making humankind the most decisive geological factor of our time."
With extraordinary access to sites in the San Fernando Valley, California; Brenner Tunnel, on Austria/Italy's border; Gyongyos, Hungary; Carrara, Italy; Minas de Riotinto, Spain; Wolfenbüttel, Germany; and Fort McKay, Canada, Geyrhalter documents exactly what excavation and staggering alteration of the natural environment looks like. At each location, workers talk to him as gigantic machinery tears down or bores through mountains, quarries marble, secures nuclear waste stored in the 70s in a salt mine, extracts copper, or visits an oil sands site inhabited by First Nations people. The feats of engineering are, in equal measure, amazing and appalling.
Nevertheless, Geyrhalter never preaches. He listens, revealing the global industry driving "progress." With an eye for dramatic, even breathtaking footage, he shoots in several scenes from inside the cab of these monstrous machines as operators attest to how difficult and rough the job is. In the Austrian/Italian section, an explosion in the Brenner tunnel engulfs and plunges the image into darkness. In another shot, dirt and gravel fills the huge cavity that is the back bed of a massive truck. Extreme, overhead shots stitch together the seven chapters, each introduction establishing perspective and making a point: humans are dots in the environment.
This brilliant documentary is haunting, beautiful, and unnerving. In press notes, Geyrhalter has said he "wanted to take a closer look at the wounds we are inflicting upon the Earth," adding that in showing the places and deeds he hoped "to trigger associations and to prompt thought." For me, this global tour succeeds spectacularly. 
In English, German, Hungarian, Italian and Spanish with English subtitles, "Earth" streams on multiple platforms including YouTube, Google, Amazon Prime and Vudu. 
Related Articles