Film Reviews
Film Reviews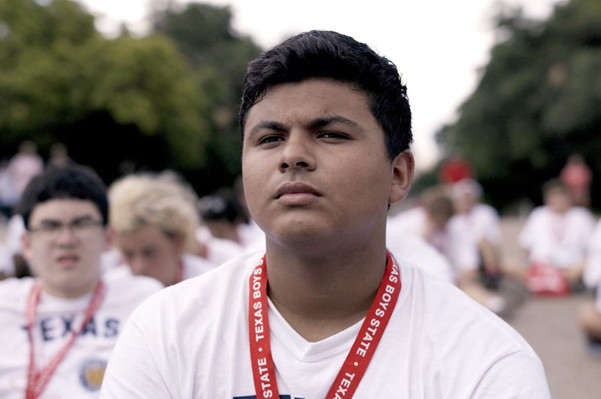 'Boys State' dramatizes today's politics in a microcosm of teenagers
By Diane Carson
Directors Amanda McBaine and Jesse Moss capture today's politics in a microcosm through their documentary "Boys State," a spirited, unpredictable examination of the 2018 Texas Boys State experience. For the week of the event, eleven hundred 17-year-olds, arbitrarily assigned to the fictional Federalists or Nationalists group, square off in representative elections, the most consequential for Boys State Governor.
At its 2020 True/False screening where I first saw the film, co-director Jesse Moss explained that the catalyst for the project was trying to understand polarization in America today, adding there are few spaces where people just get together and talk politics. He and McBaine did, in fact, capture the canary in the coal mine as this nation-wide, American Legion program, which began in 1935, asks high schoolers to devise governments in this one week experiment. Some of the candidates choose the high road, heart over governing as one says, and others sink to playing dirty tricks.
Set in Austin, Texas, snippets from American Legion candidate interviews reveal volumes about values and the seventeen-year-olds own savvy (sometimes inauthentic) promotion of themselves. The film focuses on four participants declaring for election to Governor: Ben, Steven, Robert, and René. They express political beliefs across the political spectrum with their diversity of personalities and ethnicities. Along the way to the final, suspenseful vote, McBaine and Moss introduce many issues: the dominance and problems of the internet-based society minimizing sustained dialogue, the themes of George Orwell's "1984" and Aldous Huxley's "Brave New World," the dominance of egoism, gay advocacy, and culture clashes. As revealing and interesting are informal interactions and candid comments away from the assigned groups. Watching these young men mature, or not, offers hope for our future, especially now.
I was rooting, hoping, fighting for some to succeed, others to be exposed for their sneaky, ugly political schemes. It almost brought tears to many of us viewers as it ended, and perhaps not entirely the way we hoped since it was difficult to resist rooting for some candidates against others. Best Documentary winner at the 2020 Sundance Festival, immensely entertaining, "Boys State" presents a sobering study of the desire for power and is available exclusively on Apple TV+.
Related Articles