Film Reviews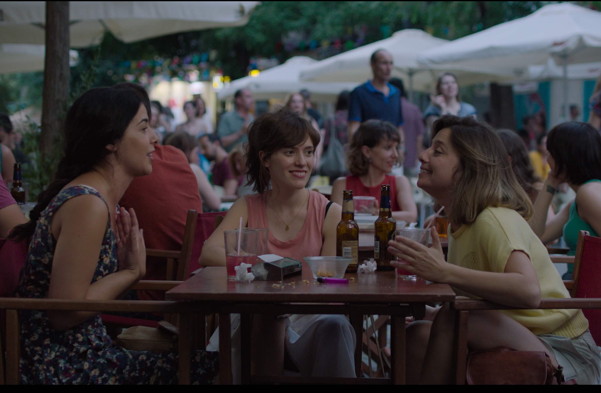 'The August Virgin' spends August's first two weeks in Madrid with Eva
Written by

Diane Carson
In its opening titles, "The August Virgin" explains that most residents leave Madrid the first two weeks of August because of the heat. Those who stay and tourists celebrate in city center neighborhoods at the outdoor festivals of St. Cajetan, St. Lawrence and the Holy Virgin. With this as its organizing principle, the film follows Eva over these two weeks.
Thirty-three-year old Eva, who decides to stay in Madrid, as she says, to try "a new way of being in the world," moves into a friend's flat. Significantly, he explains he's writing an obituary of Stanley Cavell, American author of "Pursuits of Happiness" that analyzes classic screwball comedies in which women express the courage to be their true selves. That pursuit, finding truth about oneself, informs every scene implicitly and explicitly as conversations and interactions explore that elusive goal.
From August 1 to 15, each day announced on screen, Eva reunites with long-time friend Sofi and her baby Julen, becomes friends with street performer Olka who lives in her apartment building, has an afternoon at a river with two British men she and Olka meet in a bar, runs into her previous boyfriend Luis, and so on. In other words, she lives a fairly normal couple weeks except that she interrogates, as few do, courageous or cowardly ways to prioritize moving forward. Philosophically and honestly, always directly, Eva describes her thoughts and concerns. She repairs a previous friendship, possibly saves a man considering suicide, surrenders to a reiki (energy healing) experience, and contemplates gorgeous sculptures at the Archeological Museum of Madrid, her face mirrored in the Lady of Elche (Dama d'Elche) bust. But above all, she confronts herself. Director Jonás Trueba (True-ba) co-wrote "The August Virgin" with Itsaso Arana who plays Eva, appearing in every scene.
It is decidedly her film, and she gloriously owns it with her astute observations. Most surprising by today's standards, Eva admits to her failings and challenges others on theirs; for example, when two Brits try to pick up Eva and Olka in a bar, Eva calls them on it, labeling their approach a "typical, cheap seduction trick." Such a central female character is exceptional, especially the female friendships, though the importance of romantic connections qualifies that progressive element. Nevertheless, engagingly, admirably, Eva searches for her authentic self and takes us with her. "The August Virgin" streams on the Row8 films website with a link to the Webster University film series.
Related Articles