Film Reviews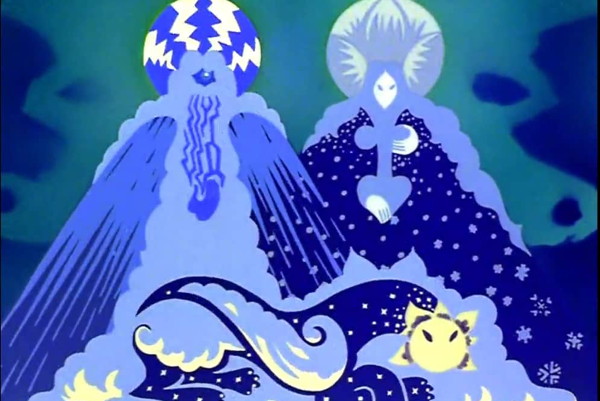 'Son of the White Mare' tells a wildly inventive, animated Hungarian folktale
Written by

Diane Carson
Based on Hungarian folktales, director Marcell Jankovics' "Son of the White Mare" offers wildly inventive, psychedelic animation with astonishing artistic flourishes and dazzling storytelling. Its opening statement, "In memory of the Scythians, Huns, Avars and other nomadic peoples," sets the stage for a trip to "a land far, far from here, almost at the gates of Hell."
Originally produced in 1981 and newly restored from the 35 millimeter camera negative, the vivid colors jump off the screen as they swirl from one shape to another, energetically advancing the legend. As the title signals, heroic Treeshaker, the most powerful of the goddess white mare's three sons, must lead the assault on the three dragons guarding the entrance to the Underworld. There, with the help of brothers Irontemper and Stonecrumbler, Treeshaker must battle to free the three princesses trapped there. It is because of the ultimate sacrifice of his mythical mare mother that Treeshaker both gains strength and learns perseverance.
His undertaking proves a daunting task of Herculean proportions: a perfect sword must be forged to conquer ferocious three-headed, seven-headed, and twelve-headed dragons guarding the path. A castle spins, a seven-colored gnome interferes and eats their porridge, a wily snake fights for dominance, and a magnificent, massive oak tree with seventy-seven roots and seventy-seven branches with seventy-seven crows must be unearthed. But this would be just another lovely fable were it not for co-writer/director Jankovics, a master craftsman and inspired creator of more than two hundred animated works, a man fond, he says, of Ray Bradbury and Oscar Wilde.
Make no mistake about it. Jankovics is a unique, astonishing artist. This world jumps into life with kaleidoscopic, shape shifting monsters and warriors of neon exuberance. Complemented by excellent sound and formidable voices, this qualifies as a masterpiece, one Jankovics had to fight censors over. As fresh and mind-bending now as in 1981, I feel fortunate that this film has been restored and rediscovered. In Hungarian with English subtitles, "Son of the White Mare" is available on Vimeo with a link to the Webster University Film Series.
Related Articles