Film Reviews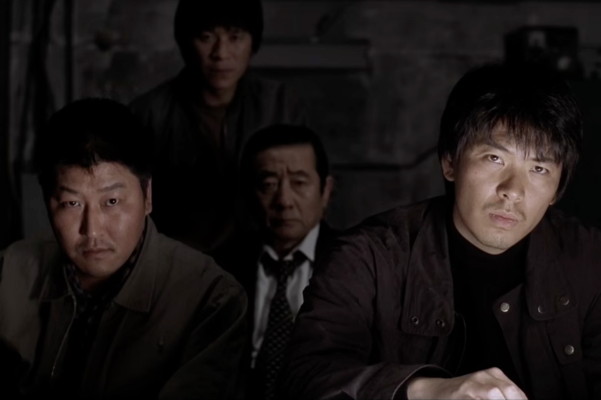 'Memories of Murder' upends conventional crime thrillers
Written by

Diane Carson
South Korean director Bong Joon-Ho made history last year with his multi-award winning film "Parasite," receiving Academy Awards for best director and best picture, the only time a foreign film has achieved that honor. But Bong has fashioned stories with his unique, recognizable style since "Barking Dogs Don't Bite," his feature debut in 2000,
Now audiences have the opportunity to become better acquainted with Bong through his second feature in 2003, "Memories of Murder." Based on South Korea's first real-life serial murders, events begin October 23, 1986 in Gyunggi province, south of Seoul, with the first corpse discovered in a culvert. When it rains and after he calls a local radio station to request the Korean pop song "Sad Letter," a perverted serial killer stalks, binds, rapes, and brutally murders young women wearing red. Two self-confident but clueless detectives work to solve the case, relying on instinct, beating and torturing suspects, chasing dead ends, resenting a detective sent from Seoul, consulting a fortune teller, and arguing with each other as well as their boss. Periodically, adding a social critique that Bong also advances through offbeat comedy, events include periodic protests in the background, civil defense air raid drills requiring blackouts, reporters thronging to the crime scene, and a totally ineffective forensics unit.
Celebrated Japanese musician Iwashiro Taro's score and sound effects, particularly during several action scenes, provoke an overwhelming, heightened response. Bong has said his favorite production activity is the sound mixing that interprets every nuance. Equally skilled, director of photography Kim Hyung-gu expresses the dark elements of events through images dominated by grays and browns.
The suspense revolves around a familiar 'whodunit' investigation, but there the similarity to conventional crime thrillers ends as Bong upends expectations with masterful ease. In press notes, Bong calls this a "rural thriller" with Korean sensibility "injected into the most conventional genre." At last year's Telluride Film Festival "Parasite" screening (where I first saw the film and heard Bong speak), Bong said he considers himself a genre filmmaker, especially of crime thrillers and detective stories. He hastens to add that he never hesitates to break and escape conventions so that, through the cracks, he reveals contemporary society. He has a refined sense of human grief, individual frustration, and a desire for answers. Adding gravitas, Bong dedicates "this film to the detectives who finally had to admit bitter defeat." In Korean with English subtitles, the digitally remastered "Memories of Murder" is available in select cinemas and soon on multiple platforms. Check listings.
Related Articles