Film Reviews
Film Reviews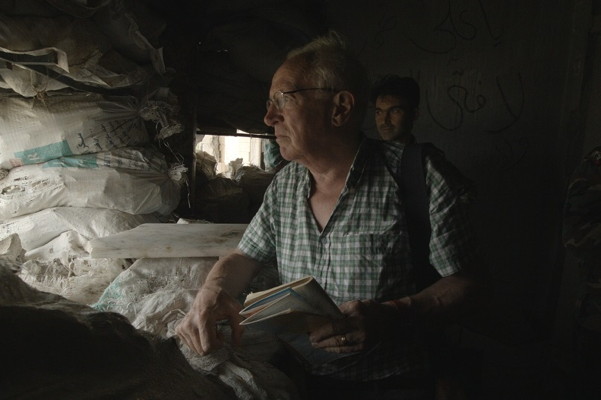 'This is Not a Movie' honors award-winning Middle East journalist Robert Fisk
By Diane Carson
Writer/director Yung Chang's documentary "This Is Not a Movie" is, the title notwithstanding, a terrific movie. It profiles multi-award-winning, veteran journalist Robert Fisk who has covered the Middle East for forty years. As revealed in the course of just under two hours film time, his political and cultural knowledge is formidable, distinguishing his astute, often challenging interpretation of events.
Above all, Fisk refuses to follow the party line, that is, he refuses to settle for facile analysis or unsatisfying defenses by self-justifying authorities. His first 1972-75 assignment took him to Belfast, Ireland, for the London Times. After Rupert Murdoch bought and interfered with honest reporting, Fisk moved to The Independent, and on to the Middle East.
International Reporter of the Year in 1980, Fisk has covered and literally been on-hand at some of the world's worst massacres and battles, as well as their aftermath. Interweaving archival footage with present-day interviews, director Chang follows Fisk in the West Bank, talking with Palestinians and Israelis. Fisk questions an arms dealer in Central Bosnia, spends time in Syria, and talks about his interviews with Osama Bin-Laden. He describes, and gruesome footage illustrates, the massacre of Palestinians at the Sabra Shatila refugee camps, the devastating destruction in Syria, and the on-going suffering in Beirut, Lebanon. This often isn't easy to watch, but, as Fisk says, "My job is to tell the truth." To get it right, he obtains first-hand accounts from multiple sources and individuals, especially those who suffer the consequences of brutality.
Chinese Canadian director Chang and editor Mike Munn take us along with Fisk. He emerges as a passionate advocate intent on revealing the world of those who suffer, so that, as Fisk notes, "People can't say that this didn't happen. No one told us." A young Fisk saw Alfred Hitchcock's 1940 film "Foreign Correspondent" and decided that was the job for him. But, he adds, everything worked out great there. As the title here states, "This Is Not a Movie." This important, powerful, provocative profile of Robert Fisk is available on the Kimstim website through a direct link to the Webster University film series.
Related Articles