Film Reviews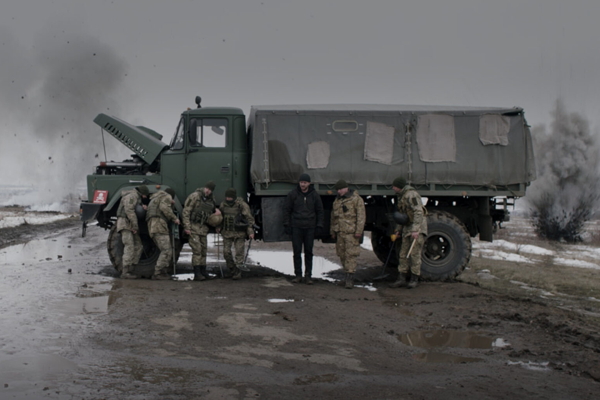 'Atlantis' finds a 2025, dystopian, post-war world in Eastern Ukraine
Written by

Diane Carson
In 360 B.C., Plato proposed a utopian Atlantis, mythologically celebrated as a lost island. Searched for over centuries as real, the moral fable still summons visions of an idealized society propagating peace. Now, in the ironically titled, dystopian world of the Ukrainian film "Atlantis," director Valentyn Vasyanovych plunges into a physically and emotionally bleak landscape.
The opening and closing scenes provide arresting, profound infrared imagery. Between these bookends, events unfold in lengthy takes through long and extreme long shots, inviting viewers' patience and careful observation. The stage is set as ex-soldier Sergiy and a friend set up eight metal male silhouettes and then repeatedly fire on them with their rifles, their PTSD obvious. Soon, a steel plant shuts down after a suicide occurs when a supervisor criticizes a faulty weld, just one sign of the recent war's toll and based on a journalist's actual death.
Following this, the majority of "Atlantis" finds Sergiy delivering clean water, and navigating through Eastern Ukrainian mud and land mines, the environment pronounced uninhabitable for decades to come. Monumental machinery and ruins crowd the world through which Sergiy drives, getting directions for safe routes, helping others as he repairs vehicles, and cataloging dead bodies recovered from unmarked burial mounds. Trucks break down repeatedly, a car burns with two men trapped, buildings and apartments are in ruins with a once beautiful piano a haunting image.
Surprisingly, as grim as this dystopic world appears, there's a heartening camaraderie, especially after Sergiy meets and partners with Katya, an archeologist, a beacon of hope amidst this bleak, catastrophic future. Moreover, in every instance, women and men calmly, unemotionally come to each other's aid.
Writer and director, Vasyanovych says he set events in the future to avoid the current, complicated political situation, though parallels are obvious. Previously a documentary director, he chose to work with nonprofessional actors casting Andriy Rymaruk, originally a driver, as the lead Sergiy. It feels real. Unexpectedly, it feels hopeful. Ukraine's Oscar submission for Best International Film, primarily in Ukrainian with English subtitles, "Atlantis" is available on the Grasshopper Film website and with a direct link through the Webster University film series website.
Related Articles