Film Reviews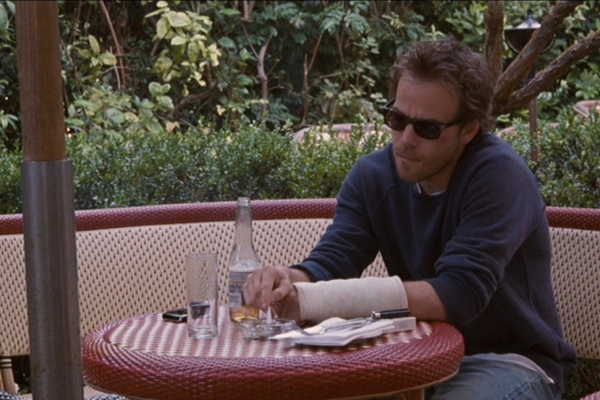 'Somewhere' continues Webster U's Sofia Coppola Thursdays series
Written by

Diane Carson
Each Thursday in March, Webster University is presenting a Sofia Coppola film with a different Coppola expert leading a discussion on it. Those interested are asked to watch that week's feature on their own before the sessions. The series continues March 18 with writer/director Coppola's 2010 "Somewhere," a film convincingly probing the ennui of international Hollywood star Johnny Marco.
A film celebrity, Johnny is disengaged from life, reacting to everyone and everything with disinterest. Because of Johnny's fame, studio and hotel staff, p.r. handlers, reporters, fans and more fawn over him, all to no avail. He falls asleep during twin blond strippers' pole dance. He can't muster any enthusiasm for a publicity trip to Milan, Italy. He's clearly depressed, responding only to his eleven-year-old daughter Cleo about whom he knows little of the last three years of her life, this established after his ex-wife delivers Cleo to him as she takes some time off.
He and Cleo do play guitars together, enjoy ice cream, and Johnny admires Cleo's ice skating and ballet. Nevertheless, Johnny is lost, making no effort to fight or find his way out. The opening shot communicates it clearly. Johnny guns his car around a deserted track over and over, going nowhere. Mirroring Johnny's lack of forward movement, Cleo swims back and forth, back and forth in a very small pool, one stroke sufficient to reach the end. Several other scenes take place in cars, ironically commenting on stultified L.A. existence.
Coppola applies her usual gentle, restrained touch, slowly and quietly letting the reality unfold, relying on Stephen Dorff's impressive, implosive, restrained performance. As Cleo, Elle Fanning brings the most energy, but nothing rescues the long takes and minimal dialogue. The challenge facing Coppola is presenting angst without succumbing to lethargy. Coppola brilliantly captures the state and Johnny's boredom, but so little happens that the end result is a dull, downer of a film.
Jessica Pierce, freelance filmmaker and Clerk for the Webster University Film Series, will present her ideas on "Somewhere" and lead the March 18 discussion. The session begins at 7:00 p.m. and registration is available on the Webster University Film Series website.
Related Articles