Film Reviews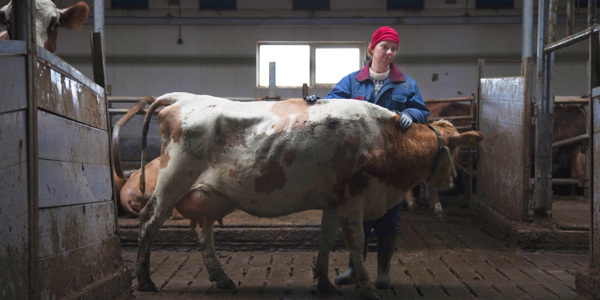 'The County' indicts a fictionalized, corrupt Icelandic farming Co-op
Written by

Diane Carson
People working in relatively isolated communities with one dominant company face an uphill battle trying to advance their fortunes. While such oppressive labor exploitation has been dramatized in American coal-mining towns, seldom has a rural Icelandic Co-op so surprisingly and directly been indicted as it is in writer/director Grímur Hákonarson's "The County."
Egotistical powerbrokers intimidate Co-op members through financial control. Farmers buy their supplies from the monopolistic company which also buys their products. Problem is, inflated prices keep them in debt, and anyone who orders less expensive necessities is reported by an informer. This sets the stage for a moving, straightforward story of dairy farmers, in particular Reynir and his wife Inga. They have foregone all vacations for three years, working their modern, robotic dairy cow.
The beautiful but austere landscapes contrast with the harshness of labor-intensive existence. And then, after tragedy strikes, Inga must take charge of the farm. She's shown her ability in the opening scene in which she pulls a calf, chains attached to its hooves, from a cow in trouble. Inga drives high-tech machinery and exhibits competence at all the demanding tasks, but she refuses to capitulate to the Co-op boss whose gorgeous home differs spectacularly with Inga's modest one. She navigates social media and personal relationships in a place where everyone knows everyone else and has history that tempers relationships.
Inga has grit and determination, using Facebook to post a blog and giving interviews to a reporter for Icelandic National Broadcasting attacking the undemocratic treatment of the "Co-op Mafia." Quietly, calmly, she takes a stand before the Co-op mounts its retaliatory response. A powerful protagonist, Arndís Hrönn Egilsdóttir as Inga gives a completely believable performance, as do all the farmers. I could smell the fertilizer, the hay, the cows, and the fresh milk.
And how refreshing it is to watch a middle-aged, superb actress so fully embody a complex character pushed to her limits by the Co-op's oppressive monopoly. As her battle escalates, Inga's physical and emotional appeal increases in this superb, inspirational story. In Icelandic with English subtitles, "The County" is available through a direct link on the Webster University Film Series website
Related Articles