Film Reviews
Film Reviews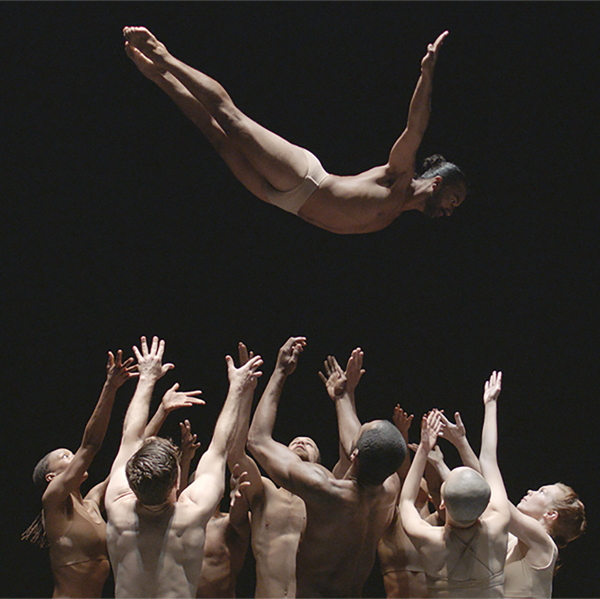 'Can You Bring It' celebrates Bill T. Jones and D-Man in the Waters
By Chuck Lavazzi
For the documentary "Can You Bring It: Bill T. Jones and D-Man in the Waters," directors Rosalynde LeBlanc and Tom Hurwitz focus solely on one of over one hundred fifty Bill T. Jones choregraphed dances. What may seem an unusual decision to forego the conventional, comprehensive overview results in a rich, in-depth, rewarding analysis of this particularly significant, relevant work.   
Dozens of times prestigious dance companies have performed "D-Man in the Waters" since its 1989 premiere at New York's Joyce Theater. Along those lines, for this film the through line is auditions for and preparation by dance majors at Los Angeles Loyola Marymount University to present "D-Man," with Rosalynde LeBlanc, an original Jones company dancer, directing. Also involved, Jones coaches and encourages the group on several occasions as he describes and archival footage illustrates the creation of the dance.
As Jones explains, "D-Man in the Waters" emerged as a response to the fear, anger, and grief caused by the AIDS crisis in the 80s, asserting the critical importance of community, and moving toward hope. Among others, co-artistic director and co-founder of the Bill T. Jones/Arnie Zane Company, Jones' partner, Zane died of AIDS the previous year. Damián Acquavella died the next year, and his appearance on stage with Jones is poignant and courage personified.
Co-director and cinematographer Tom Hurwitz (ASC) captures the dance brilliantly, channeling the artistry, the energy, and the athleticism as Jones and LeBlanc offer insiders' insights into the movements and ideas. Dancers collapse, fall to the floor, and also rise. Dancers catch each other as they fall, hold each other up, swim forward, slide headlong on their stomachs, and rush to the front of a moving line. Jones writes, "This work is not about anybody's epidemic. It is about the dark spirit of what is happening in the world and how you push back against it," in essence, the human spirit and spirituality triumphing. In the film, Jones challenges, "We have to bring it. Bring the god into the room." "Can You Bring It: Bill T. Jones and D-Man in the Waters" is an inspiring, exuberant documentary, available from Kino Marquee with a direct link on the Webster University film series website.
Related Articles