Film Reviews
Film Reviews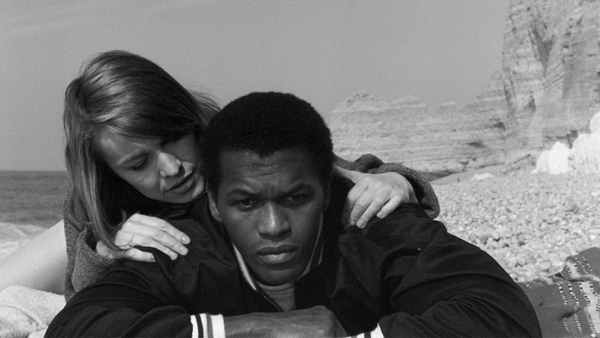 Classic French Fest's 2nd Weekend Offers Three Very Different Films
By Chuck Lavazzi
The 13th Annual Robert Classic French Film Festival continues into its second weekend, August 20 through August 22. First is Melvin van Peebles' "The Story of a Three Day Pass" followed by Agnes Varda's "Vagabond:/Sans toit ni loi" and Jean-Jacques Beineix's "Betty Blue." Film critics or French scholars will introduce each program and lead a discussion after screenings.
Friday, August 20, kicks off with Melvin van Peebles' stylistically inventive 1967 "The Story of a Three-Day Pass." Adapting his own French novel "La Permission," Van Peebles confronts 1960s racist attitudes through an international, interracial couple, locating events in and around Paris. Considered by his supervising Captain Lutz a trustworthy Black Army soldier, Turner (Harry Baird) receives a promotion to assistant orderly, another stripe, and a three-day pass before his new assignment begins. At a Parisian nightclub he meets Miriam (Nicole Berger), a white store clerk, with whom he spends a romantic weekend at the beach before reporting back to base with dire consequences.
Van Peebles injects assorted subjective and imagined events, including Turner debating himself in a mirror, split screen shots, slow motion, fantasy diversions, jump cuts, freeze frames, and his actor sliding into the nightclub on a dolly. At times a bit dated, nevertheless cinematographer Michel Kelber's bravado embellishments enliven and add humor to Van Peebles' autobiographically inspired tale. The biting racial commentary has lost none of its poignancy.
Saturday, August 21, iconic director Agnès Varda's 1985 "Vagabond: Sans toit ni loi" begins and ends with the discovery of Mona Bergeron (Sandrine Bonnaire) dead in a ditch. As an unseen narrator interviews those who interacted with Mona, her tough, nomadic life unfolds: time with a Tunisian vineyard couple, a goat farmer and his family, a university plane tree agronomist, and a maid. Varda refrains from telling about such a dismal life; she shows it through a poetic, sobering study, earning it the Golden Lion, the top prize, at that year's Venice Film Festival and France's César Award for Best Actress for Sandrine Bonnaire.
Sunday, August 22, at 6:30, the longest film at three hours five minutes is the self-indulgent director's cut of Jean-Jacques Beineix's 1986 "Betty Blue." The psychologically unhinged, physically volatile Betty, her lover and would-be novelist Zorg, and their acquaintances ricochet through contrived, exasperating incidents as Zorg provides sophomoric voice-over narration. With vibrant colors, effective art direction, energetic performances, and plenty of sex scenes with male and female nudity, the film made a splash, though it offers an Intermittently annoying, utterly juvenile philosophy.
In French with English subtitles, all three films screen at Webster University's Winifred Moore Auditorium with "The Story of a Three-Day Pass" 7:30 Friday, "Vagabond" 7:30 Saturday, and "Betty Blue" at 6:30 Sunday. You may find more information on the Cinema St. Louis website.
Related Articles