Film Reviews
Film Reviews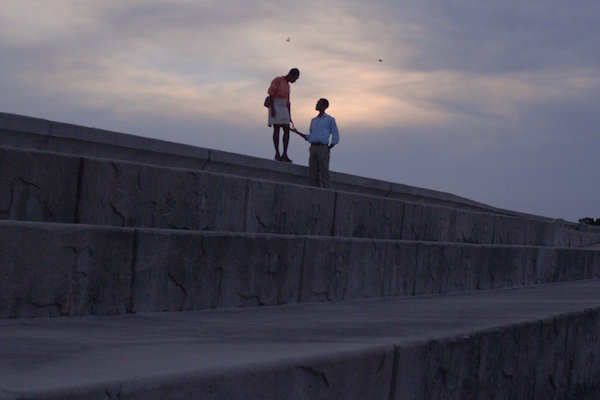 'Southside with You' imagines Barack and Michelle's first date
By Diane Carson
Writer/director Richard Tanne's Southside with You manages a delicate and thrilling balancing act. One afternoon in the summer of 1989 Barack Obama manages to entice Michelle Robinson, his advisor at the law firm where he's interning during his summer break from Harvard, out for an afternoon community organizing meeting.
Over several hours they become more fully acquainted while visiting a celebratory African American art exhibit, seeing Spike Lee's Do the Right Thing, and, most significantly, walking and talking through Chicago's South Side. It's always challenging to depict real people. That this man will become President of the United States and this woman the First Lady increases the risk. Wisely, Tika Sumpter as the 25-year-old Michelle and Parker Sawyers as Barack worked, as Sumpter says in an IMDB interview, "to embody the essence of who they are," not to imitate them. Tika and Parker did watch interviews to capture their mannerisms and accurately suggest their vocal rhythms and inflections. 
Both actors look relaxed and yet are very present, involved in conversations, listening thoughtfully to each other and responding. It's so refreshing to hear intelligent, appealing individuals quoting literature, proud to be educated, and talking about the dynamics of the corporate workplace including attitudes toward women, notably black women, in addition to other racial elements. Their honest, pointed discussions remind us that these are certainly not new issues but ones that demand careful, direct consideration if we're going to make constructive progress. 
Technically, Stephen James Taylor's music expressively reinforces the time period and moods, enhanced by the touching new song "Start," written explicitly for the film by John Legend. Patrick Scola's cinematography uses light well and art director Adri Siriwatt's color palette intensifies the milieu, though the soft focus dominates in a few scenes that merit a cooler choice. Evan Schiff's editing moves the narrative at a pleasing pace without ever making it feel hurried. Attention stays where it should--on the interaction between Barak and Michelle. Above all, Southside with You is a wonderfully entertaining love story of two people getting to know each other. Check local listings for area cinemas.
Related Articles