Film Reviews
Film Reviews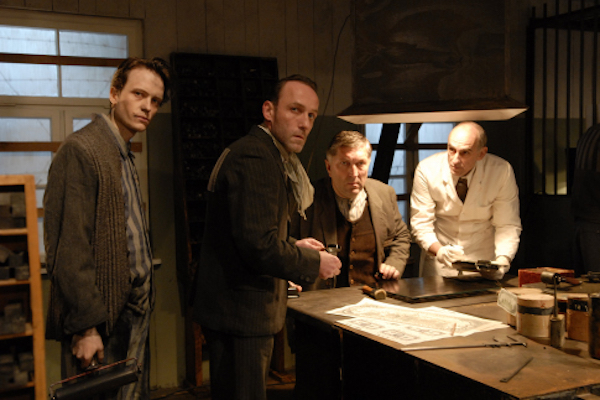 'The Counterfeiters' tells an astonishing, WWII story
By
A few rare stories are so astonishing that it would be difficult, if not impossible, to believe them were they not absolutely true. This is the case with Austrian co-writer/director Stefan Ruzowitzky's The Counterfeiters which chronicles the World War II account of Operation Bernhard, the largest counterfeiting operation ever undertaken. 
Begun in 1936, it was run by the Nazi SS with Jews from concentration camps as the expert forgers. Led by the best, he was a Russian Jew, Salomon Sorowitsch, called Sally, arrested first in prewar Berlin and later plucked from Mauthausen. Squared off against cooperative Sally is Adolf Burger, endangering everyone by antagonistically refusing to collaborate. The film begins in Monte Carlo and flashes back to the late 30s as Nazis plan to ruin the Allies' economies by flooding the market with fake British pounds and American dollars. Under duress from a tyrannical commandant, the prisoners race to create accepted fakes or their lives are over. Death is always near, within earshot. Meantime Adolf sabotages the counterfeiting efforts. 
Palpable suspense holds sway as events unfold while, on another heady level, the ethics of cooperating is brilliantly challenged with compelling arguments by Sally and Adolf, for survival and for idealism. The color palette is appropriately, metaphorically dominated by grays and dark, claustrophobic scenes.  
At Telluride, director Ruzowitzky said his family's Nazi connections and sympathy prompted him to make this powerful statement, especially needed now with Neo-Nazi activity. Every factual detail was carefully researched. Unexpected, powerful tango music, on a CD given to the director, adds the right mix of sadness, energy and passion, suggesting all Sally stands for. The breathtaking performances and superb style earned The Counterfeiters the 2008 Oscar for Best Foreign Language Film. In German and some Russian with English subtitles. 
It screens at Webster University's Winifred Moore auditorium one night only, Tuesday, September 13 at 7:30. For more information, you may call 314-968-7487 or visit the Webster Film Series website. 
Related Articles