Film Reviews
Film Reviews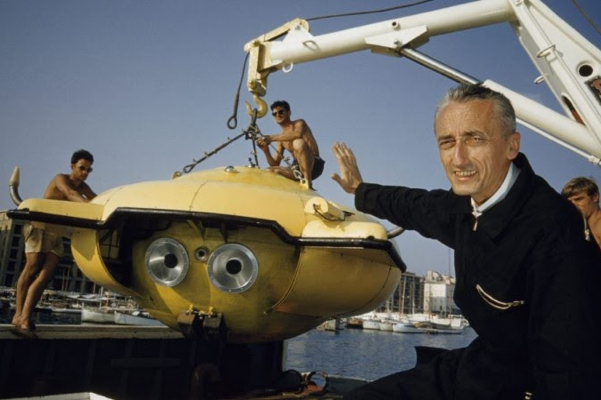 'Becoming Cousteau' charts the life of a heroic explorer and conservationist
By Chuck Lavazzi
Jacques-Yves Cousteau truly deserves acknowledgement as a legendary, pioneering explorer of an undiscovered world, that of the ocean. Director Liz Garbus's documentary "Becoming Cousteau" chronicles that aspect of his life as well as his important global advocacy for conservation of this critical natural resource, well before others realized the vulnerability and devastation he saw increasing in the 1970s.
As Cousteau said, "We only protect what we love," and he loved the sea. In fact, Garbus begins the film with Cousteau affirming his enduring fascination, asserting, "Diving is the most fabulous distraction you can experience. I am miserable out of the water. It's as though you have been introduced to heaven and then forced back to Earth." He didn't always focus on the world beneath the sea, first pursuing his desire to be a Navy pilot. A serious car accident sent him into physical therapy in the ocean, igniting his life's devotion and commitment.
Cousteau's captivating enthusiasm is established through various voices (all identified) reading excerpts from his and friends' writings, archival footage of television interviews and news footage, and descriptions of his international fame. Initially, WWII interrupted his work, but immediately thereafter he resumed his commitment aboard his boat Calypso to exploring oceans, including Antarctica. The fascinating heart and soul of Cousteau's life and, appropriately, this film is, first and foremost, his sharing and revealing his beloved underwater world through his groundbreaking films and television series. As important, Garbus chronicles Cousteau's contributions to the invention and development of scuba gear (self-contained underwater breathing apparatus), his raising necessary funds through oil exploration (regretted later because of its destructive impact on the natural world), and his winning the 1956 Cannes Film Festival Palme d'Or for his documentary "The Silent World."
Cousteau's proudest achievements were his conservation work. Far ahead of his time, he wrote "Our Oceans Are Dying" in 1971 for he understood our complex ecological interdependence. May his legacy endure. "Becoming Cousteau" is a National Geographic Documentary Film, in English and in French with English subtitles. Check listings.
Related Articles