Film Reviews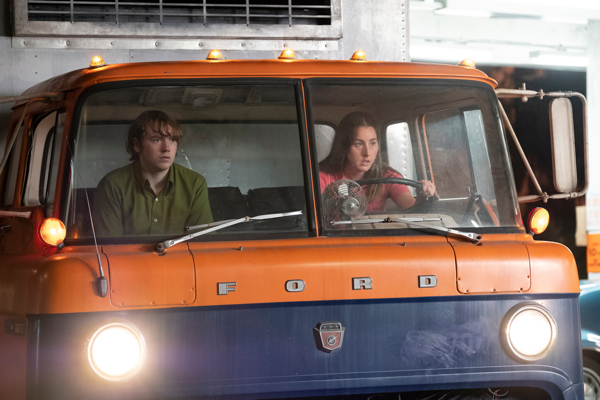 'Licorice Pizza' aims to entertain but makes mistakes
Written by

Diane Carson
This holiday season, cinemas offer several excellent, serious films, including "The Tragedy of Macbeth," "The Power of the Dog," "The Lost Daughter," and "Nightmare Alley." As a complementary antidote, writer/director Paul Thomas Anderson serves up the breezy, fast-paced "Licorice Pizza." Set in 1973 in the San Fernando Valley, it celebrates fifteen-year-old Gary Valentine's love for Alana Kane, twenty-five.
They meet cute at Gary's high school where Alana works as a photographer's assistant for class photos. It's love at first sight, at least for Gary, who works as an actor and takes on several odd, truly odd jobs. Together Gary and Alana start a waterbed company and, later, a pinball arcade—flashbacks to that time period. Keeping with Gary's acting work, they audition for films and become involved in a mayoral campaign. Along the way, their adventures ricochet through a hodge-podge of what amount to comic set pieces, a couple inspired.
With impressive acting, as Gary, Cooper Hoffman, Philip Seymour Hoffman's son, looks and acts ever the infatuated teenager, but with much greater self-confidence than usual. He's certain, among other things, of his enduring romantic connection with Alana, Alana Haim of the three sister rock band Haim. Sean Penn, Tom Waits, Maya Rudolph (Anderson's wife), Bradley Cooper, John C. Reilly, and others appear in amusing cameos.
Events are reportedly based on experiences of Gary Goetzman, previously Tom Hanks' producing partner. The title comes from a chain of record stores, though none are visited in the film. Johnny Greenwood's music plus Anderson's and Michael Bauman's cinematography (with older camera lenses) reproduce '70s milieus. And Andy Jurgensen's editing keeps the pace brisk, as needed for comedies.
Now the bad news. Serious criticism centers on the ten year age gap between Alana, 25, and Gary, 15, a minor, and some of their romantic interaction. In addition, at least two incidents involve mockery of caricatured Japanese women in events completely tangential to the story. In former movies, ("Phantom Thread," "There Will Be Blood," and "Boogie Nights") Anderson has shown a keen critical eye, not so here. "Licorice Pizza" is at many area cinemas.
Related Articles