Film Reviews
Film Reviews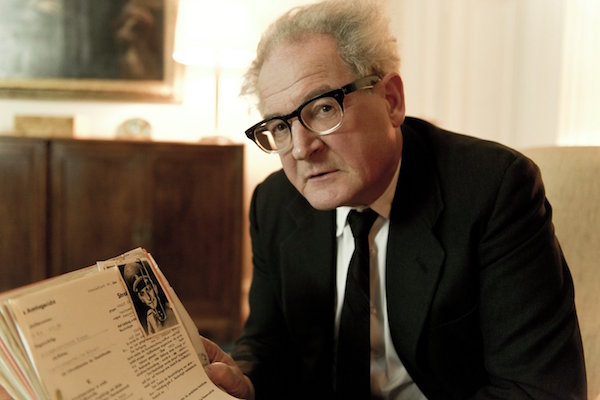 'The People vs. Fritz Bauer' tracks Nazis in 1957
By
As The People vs. Fritz Bauer begins, even before credits appear, Bauer addresses the camera in archival, black and white footage asserting, indeed hoping, that Germany's younger generation in 1957 is prepared to confront their country's true history. District attorney of the German state of Hessen, Bauer seeks and struggles to bring crimes and criminals of the Nazi years to justice.
This includes tracking down Third Reich officers hiding under pseudonyms in other countries. Bauer's attention will soon focus on one of those men most responsible for Jewish deportations to concentration camps, namely Adolf Eichmann living now in Buenos Aires under a false identity. The circuitous twists and turns of Bauer's pursuit are impacted by continuing anti-Semitism, even death threats, against the Jewish attorney Bauer and by former Nazi Party members and sympathizers currently directing -- and as often misdirecting -- Germany's justice system to protect themselves and escaped designers and perpetrators of the "final solution." Knowing this, with the support of loyal public prosecutor Karl Angermann, a composite character, Bauer will risk charges of treason by petitioning Israel's Mossad for assistance.  
Details of Bauer's courageous investigation did not surface until ten years after his death in 1968. Seeking justice and an enlightened future for his country, Bauer wrote in 1962 that "everything that was inhumane" must be put on trial, including persistent prejudice against Jews and homosexuals, an issue dramatically intertwined here. Bauer's efforts resulted in the Frankfurt Auschwitz trials, the first in 1963, none of which are depicted in the film.
Director/co-writer Lars Kraume navigates this complex, fascinating story chronologically with his and Olivier Guez's screenplay a targeted indictment of post-WWII Nazis hiding in plain sight with each other's cooperation duplicity. As Bauer, Burghart Klaussner embodies a credible, level-headed prosecutor with tragic regrets of his own. As Angermann, Ronald Zerhfeld is conflicted and supportive. The entire German cast and cinematographer Jens Harant present the film in documentary style. The People vs. Fritz Bauer is an essential reminder that justice must be ceaselessly and fearlessly fought for by everyone at all times. In German with English subtitles. At Landmark's Tivoli Theatre.
Related Articles