Film Reviews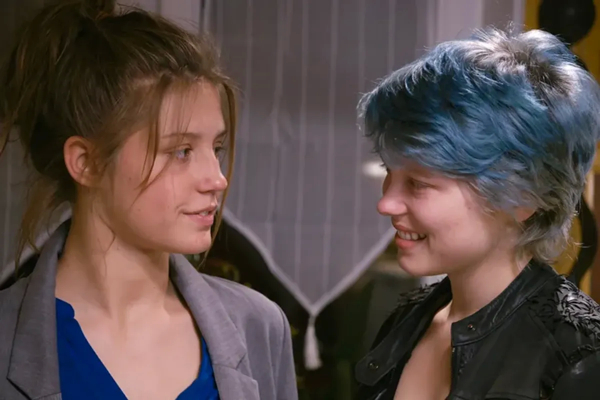 'Blue Is the Warmest Color' chills with individual obsession
Written by

Diane Carson
Tentatively exploring and gradually defining her sexual identity, Adèle flirts with, finds love, and then fixates on Emma, a confident young woman much more self-aware and secure in her values than Adèle. This succinctly summarizes director/co-writer Abdellatif Kechiche's "Blue Is the Warmest Color" but barely hints at the emotional depths and psychological trauma the film probes.
Much too long at three hours, the leisurely paced film does give the audience plenty of time to invest, even feel ensnared, in Adèle and Emma's relationship. Adèle moves from her days at school to work as an elementary schoolteacher as Sofian El Fani's camera inspects her, most often in close-up, every step of the way. Representing a more sophisticated individual from an upper class family, Emma studies art and aspires to success as a painter. The class clash between Adèle and Emma adds another layer of ideological tension.
As Adèle, Adèle Exarchopoulos holds the screen with an extraordinary abandon. As Emma, Léa Seydoux matches her openness and vitality. Their performances convey a seldom seen vulnerability. Very graphic, some have accurately said pornographic, sex scenes between the two women have prompted controversy over the appropriateness or exploitation within the film. At a seminar at the Telluride Film Festival, the two actresses and the director addressed this. Adèle said that for her it was a question of trust and abandon to communicate the magnetism in a relationship of the flesh. Léa added that she had to give everything: her body and emotions.
Their selfless, all-in commitment defines and intensifies every exchange. And yet, given the director's undeniable, indulgent voyeurism brought to the women's sexual display, I fear, in fact know, that as with "Last Tango in Paris," the real core of the story, one fragile individual's nervous breakdown and devastating despair, will get lost in the explicit physical activity. That's unfortunate since it is into the nature of our obsessions, our immaturity, and our myopia that we need to gain insight.
In French with English subtitles, "Blue Is the Warmest Color" screens at Webster University's Winifred Moore auditorium one night only, Saturday, March 26, at 7:00 p.m. For more information, you may call 314-246-7525 or you may go to the Webster University film series website.
Related Articles