Film Reviews
Film Reviews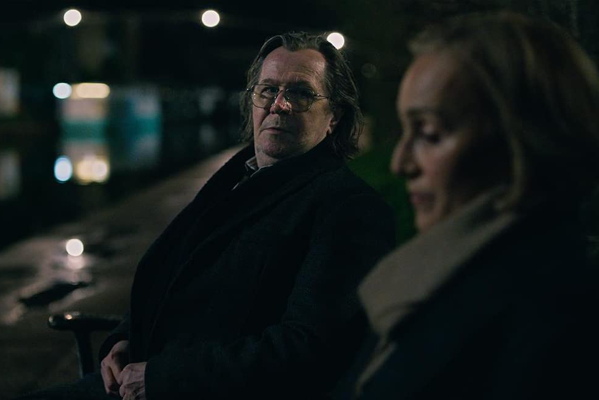 'Slow Horses' follows an incompetent group of Britain's MI5 agents
By Chuck Lavazzi
Numerous films, not least the James Bond collection, and television programs have championed the sterling reputation of Britain's MI5 agents. And so it seems inevitable and quite right that, given current attitudes, the incomparable espionage enterprise gets revisited through a stunningly incompetent group of agents whose punishment involves reassignment to Slough House, a shabby site away from the true professionals.  
More jarringly, the man in charge there is Jackson Lamb who has nothing but contempt for his underlings who repeatedly incur his wrath, and he lets them know. In the early episodes, this menagerie of misfits prompts some hilarious exchanges before they stumble into a misguided plot hatched by the respectable administrator, Diana Taverner. The only competent "loser" assigned to Slough House is the nimble fingered tech master, Roddy Ho.
Based on Mick Herron's 2010 first novel featuring Jackson Lamb, the contrast between the proper MI5 headquarters and the rejects' offices reveals the different realities. Of interest, Slough House itself (a great name for the repulsive digs) has a real location, London's Aldersgate Street near the Barbican Tube stop, certain now to become iconic in its own right.
Though some of the villains are too much caricatures to evoke humor, the rest of the characters emerge as the most delightful personas. Foremost among the group, as Lamb, Gary Oldman delivers his foul- language insults with dismissive malice as he wallows in a cluttered, disorganized, dirty office. Kristin Scott Thomas brings a frightening chill to Diana Taverner, and Jack Lowden as River Cartwright, a most inept agent, breezes with superb skill through his bungling behavior. Equally impressive are Saskia Reeves, Rosalind Eleazar, and Chris Reilly.
Director James Hawes creates a world of light and shadow that perfectly contrasts intrigue with truth. For those of us (count me in) who love cloak and dagger dramas, "Slow Horses" adds a needed chapter of the ne-er do wells. I am eager to plunge into season two. Until then, the six episodes of "Slow Horses" are now streaming on Apple TV+.
Related Articles