Film Reviews
Film Reviews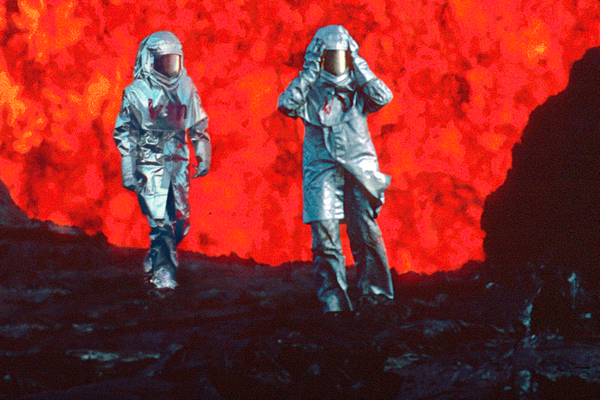 'Fire of Love' captures volcanoes' majesty and terror
By Chuck Lavazzi
In "Fire of Love," director Sara Dosa has crafted an unusual documentary on the majesty, power, and danger of volcanoes, for Dosa did not shoot the extraordinary footage presented here. However, she has expertly chosen from and edited hundreds of hours of her subjects' 16mm films and thousands of their photographs. They are volcanologists Katia and Maurice Krafft.
Both raised in the French Alsace region, early in their careers, geochemist Katia and geologist Maurice found themselves completely captivated by volcanic behavior. For two decades, they committed themselves singe-mindedly and extraordinarily to scientific documentation, hoping to help others avoid their fate. For on June 3, 1991, at Mount Unzen, Kyushu, Japan, they and fellow volcanologist Harry Glicken died, victims of an unpredictable, dome-forming eruption, racing toward them, roughly two miles away, at over one hundred miles per hour. No spoilers here since this tragedy is noted early in Katia and Maurice's profile.
With voiceover narration by Miranda July, animated sequences, and interspersed archival footage of interviews and presentations by Katia and Maurice, the Kraffts come to vivid life as they meticulously particularized the fascinating lava flows, volcanic ash, explosions, and gases. Travelling the globe, in silver insulated jumpsuits and sometimes red caps, they appear in danger time after time, filming eruptions, smiling in interviews, clearly in love with each other and their work. A perfect ying and yang couple, Katia defers to Maurice's more loquacious personality, though she has a droll sense of humor and a contagious smile. In all situations, they are warm, enjoyable, and educational company. Their life's work contributed enormously to our knowledge of the ways of volcanoes.
When I saw "Fire of Love" at this year's True/False Film Festival, the audience and I clearly responded to the astonishing and terrifying images with intense fear for Katia and Maurice. Because of the overwhelming grandeur and fearful splendor of the many volcanoes this couple visited and photographed, watching this film on the big screen is a must. A National Geographic Documentary, in English and French with English subtitles, "Fire of Love" screens at Landmark's Plaza Frontenac Cinema.
Related Articles