Film Reviews
Film Reviews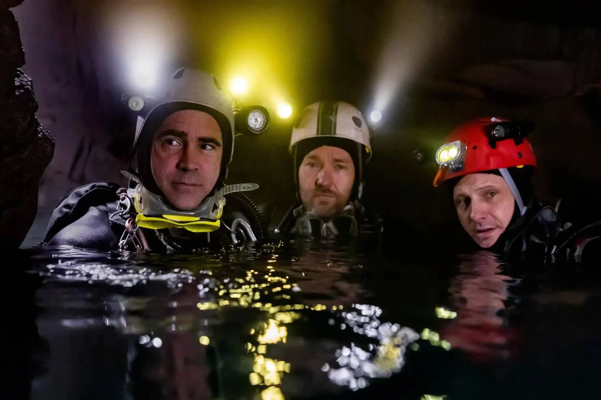 'Thirteen Lives' powerfully presents the Thai cave rescue
By Chuck Lavazzi
Director Ron Howard's "Thirteen Lives" impressively dramatizes actual events from 2018, an equally terrifying and inspiring, seemingly impossible rescue mission. Even knowing the outcome for the twelve Thai Wild Boar soccer boys and their coach as they enter the Tham Luang Cave in Thailand's northern Chiang Rai Province, a palpable chill takes over as monsoon storms unleash torrents of rain.
Distraught and distressed, we know what's coming. These thirteen individuals will be trapped deep within a flooded cave of winding, narrow passages. Soon, the community and five thousand people from seventeen countries will gather, fearful and shocked, contributing as they can to the apparently futile attempt to rescue the group. Knowing this tragic entrapment is "Based on Actual Events" makes every decision even more consequential, lives literally in the balance.
Elizabeth Chai Vasarhelyi and Jimmy Chin's 2021 documentary "The Rescue" (which I also recommend) is an exceptional presentation of its title event, the rescue, but it lacked involvement with the families and divers because of elusive legal rights. What "Thirteen Lives" adds in its two hours twenty nine minutes is an expanded social and political context: the boys' families, the embattled Governor of the Chiang Rai Province who is caught in an administrative impasse, the local farmers who will lose the year's rice crop if they agree to the diversion of what amounted to fifty-six million gallons of water ino their fields, the farmers' resourcefulness and knowledge of sinkholes and ways to reroute water, the monks who arrive, the conflict over expertise between the Thai and British divers, those trapped without Thai IDs, and the brilliant strategies the soccer coach employed to keep the boys calm and alive trapped eighteen days in that cave.
With all this, the full story comes alive, but it is cinematographer Sayombhu Mukdeeprom's breathtaking, scuba footage, by turns, intensely claustrophobic, repeatedly confusing, and always dangerous. As a decades long scuba diver, I came away thoroughly impressed with the attention to getting details right. Colin Farrell as British diver John Volanthen and Viggo Mortensen as his peer Rick Stanton anchor the story with many superb Thai actors bringing all this to life, calmly but forcefully. This is a fascinating, haunting film. In English and Thai with English subtitles, "Thirteen Lives" streams now on Amazon Prime Video.
Related Articles