Film Reviews
Film Reviews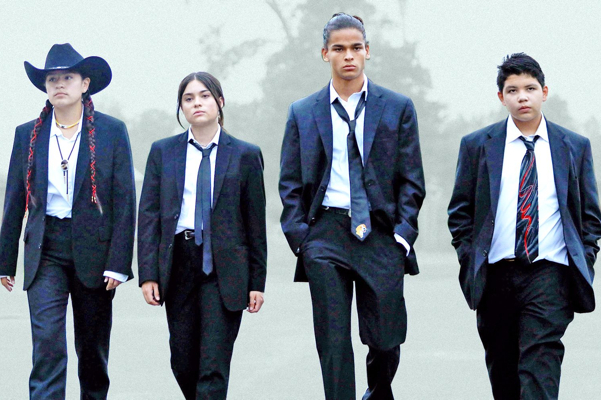 'Reservation Dogs' depicts complex contemporary Indian culture
By Chuck Lavazzi
Teenage driven narratives stretch back to earliest films and television dramas. But, to its immense credit, the two season series "Reservation Dogs" breaks new, extraordinary ground. Set on an Oklahoma Indian reservation, and there are many in Oklahoma, we'll learn four young men and women face what they consider bleak futures on the rez and envision better lives elsewhere.
Typical, eh? But several unique elements elevate and recommend "Reservation Dogs" above what certainly could be formulaic struggles. First, creators Sterlin Harjo and Taika Waititi plus the writers, most of the actors, and the crew all proudly claim Indigenous origins. Second, production is set and filmed on Oklahoma reservation locations, a first of its kind. Third, the roughly thirty minute episodes don't shy away from poking fun at past Indian representation and clichés. Moreover, the writers embed complex emotional landscapes in gentle and targeted mockery, granting "permission to laugh with us," as Harjo says in a recent Fresh Air interview, while turning the insulting stereotype "on its head." Having grown up on Oklahoma's Muscogee Reservation, Harjo knows whereof he speaks.
As important, the series doesn't idealize Native life. It involves suicide, a dear relative's death, health care challenges, and all the familiar problems of today's age, plus some. Not surprising, these teenagers exist in a community, a strong community, that supports them even through their fights with each other and diverse situations. And they have a thorough knowledge of popular culture, exhibited in their own behavior, songs, and dreams. And these four, two men and two women, have distinctive personalities: Elora, Bear, Cheese, and Willie Jack.
The episodes are uneven, some stronger than others. But it's a delight to see accomplished actors hold forth: Gary Farmer as Elora's Uncle Brownie, Zahn McClarnon as Tribal Officer Big, and Dallas Goldtooth as "Spirit" Knifeman. In addition, the writing and production values deserve high praise. Some words and phrases will even send non-Indigenous individuals for more information. For example, "Skoden" means "Let's go then"; "Aho" is "Hello" or "Thank you"; and 'Cvpon" an affectionate word for boy or young man. Wonderfully celebrating the Indian world in all its intricacy, the two seasons of "Reservation Dogs" stream on FX on Hulu.
Related Articles