Film Reviews
Film Reviews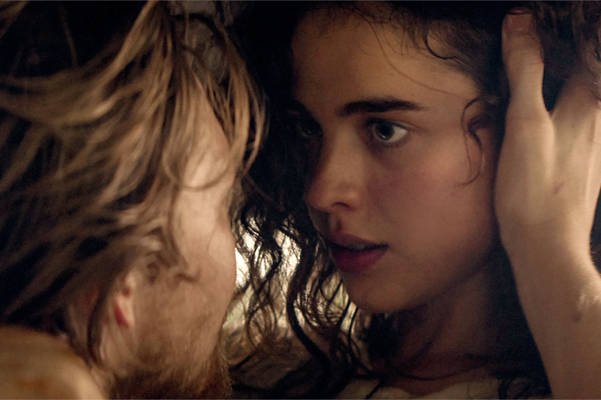 'Stars at Noon' focuses on two characters trapped in Nicaragua
By Chuck Lavazzi
By turns obtuse and intriguing, director Claire Denis' "Stars at Noon" follows Trish Johnson, a would-be journalist trapped in Nicaragua. She befriends, for her own benefit, Daniel DeHaven, a British Watts Oil consultant. Adrift emotionally and physically, Trish and Daniel become entwined in an obsessive sexual relationship that dominates too much of the film's two and a quarter hours.
Unfailingly drinking too much, in desperation selling herself for fifty American dollars, scheming to escape to Costa Rica, and behaving erratically, Trish relies on her wits and her body. Daniel remains a Machiavellian mystery, a treacherous cipher. Based on Denis Johnson's 1986 novel set against the 1984 Sandinista Revolution, co-screenplay writer Claire Denis posits volatile present-day Nicaragua as the menacing backdrop here. Gun-toting soldiers guard locations and patrol various areas, adding a violent subtext as events unfold with deception and danger intertwined.
While the environment provides a strong presence, the dialogue lacks energy, dissipating momentum at significant junctures. Possible political intrigue remains too unexplored to counter the sluggish pace, though there's life in the jazz score and music from Tindersticks, with whom Denis has previously worked. Eric Gautier's widescreen cinematography contrasts interior and exterior scenes while relying too much on closeups of Trish.     
As Trish, Margaret Qualley throws her heart and body into the role, while Joe Alwyn's performance as Daniel feels listless by comparison, in part due to his character. Qualley and Alwyn both pose better than they interact. When not in bed, the couple leaves a trail of collateral damage.
I admire many of Claire Denis' films, "Beau Travail" one of my all-time favorites, but "Stars at Noon" doesn't live up to my expectations for such a fine director. Some of her usual concerns are there—a passionate, problematic relationship with relatively isolated individuals in serious conflict. For its efforts, "Stars at Noon" shared the prestigious Cannes Film Festival's Grand Prix, basically second place. In English and Spanish with English subtitles, "Stars at Noon" screens at Landmark's Plaza Frontenac Cinema. Check listings.
Related Articles