Film Reviews
Film Reviews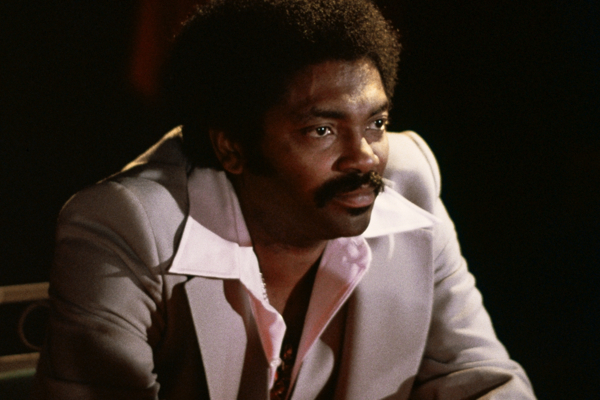 'Solomon King' showcases a restored 1974 Black cinema classic
By Diane Carson
Cinema fans keen to add to their knowledge of 1970s Blaxploitation films will welcome the discovery and restoration of 1974's "Solomon King." As co-writer, director, producer, editor, and star, Sal Watts energetically channels all those familiar '70s elements into this international conflict. The camera zooms in and out and reframes. The soul-funk music drives numerous scenes.
Watts uses his own Mr. Sal's Fashion clothes for the flamboyant costumes, and he shot primarily on-location in Oakland, California, with nonprofessional actors. The plot arises from the brutal assassination of Princess Oneeba, recently escaped, thanks to Solomon Kings' brother Manny, from Prince Hassan's Middle Eastern sheikdom rich in oil. His financial ties to the oil industry having funded his successful night club and lifestyle, including his Maserati, Ex-Green Beret, ex-CIA agent Solomon King, also Oneeba's ex-lover, must avenge this crime with support from his Green Beret buddies.
There's a wild final act, among other fast-moving scenes. That Solomon runs a nightclub enables at least two energetic musical interludes, one nicely followed by and contrasted with Middle Eastern music. In fact, accidentally locating the original soundtrack led eventually to a "Solomon King" print, badly in need of repair, in the UCLA Film and TV Archive. In press notes, Watts' widow, Belinda Burton-Watts, writes, "I had been praying that my husband's accomplishments would not go unnoticed." Indeed, as she added, this "one Black man's vision" is now duly credited.
Though some critics then and now dislike the "Blaxploitation" label, these films asserted Black agency and appeal to Black audiences, especially urban ones, insulted by mainstream fare with Blacks the victims, criminals, or some minimally secondary role. In these films, Black characters are in charge, running the show from both sides of the law, though the women remain too often sexist eye candy. These include director Melvin Van Peebles' "Sweet Sweetback's Baadasssss Song" (1971), Gordon Parks' "Shaft" (1971), and Gordon Parks Jr.'s "Super Fly" (1972). Though some still complain of less than admirable characters in the Blaxploitation action/crime staple, quite ironically, music, clothes, and attitudes were soon lionized, popularized, and imitated for years by a diverse array of audiences and filmmakers.
In its historical framework, "Solomon King" contributes an important addition. It screens at Webster University's Winifred Moore auditorium one night only, Saturday, November 19, at 7:00 that evening. For more information, you may visit the film series website..
Related Articles