Film Reviews
Film Reviews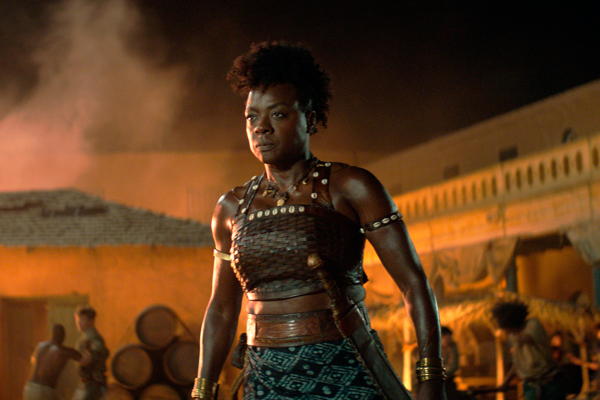 'The Woman King' triumphs with action and issues
By Chuck Lavazzi
Films often elect spectacle or substance. To its credit, "The Woman King" offers both in a rousing tale of women warriors while mounting a devastating historical and cultural critique. Director Gina Prince-Bythewood doesn't flinch from tackling the African slave trade, sexual victimization, colonial oppression, and the long-term impact of trauma, all packaged in spellbinding action inspired by true events
The setup is straightforward. In the 1800s, the all-female Agojie warriors will protect, to their death, the West African kingdom of Dahomey. Their physical prowess and fierce defense of Dahomey inspires terror in foreign and domestic adversaries. In addition to recruiting and training the girls who will continue Dahomey's defense, General Nanisca leads with intelligence, ability, and awareness of how to prepare herself and others. Her perceptive understanding of ways to motivate her followers confirms her leadership position.
The most stunning recruit, Nawi, poses her own challenges and problems. She and Nanisca will require several confrontations before they can move forward comfortably. As General Nanisca, Viola Davis presents extraordinary strength and steely composure. As Nawi, Thuso Mbedu holds her own against the formidable Viola Davis. As King Ghezo, John Boyega has charisma, and Lashana Lynch as Izogie adds a vivid, three-dimensional character, often rare in action films that rely on simplistic ones. Only the slavers lack any complexity, determined only to prosper, exhibiting an indifference to human suffering. In fact, such slave trade existed from about 1600 through 1904 in what is now Benin.   
Throughout "The Woman King" the fight choreography is breathtaking, its narrative impact enhanced because the actors performed, per stunt coordinator Daniel Hernandez, 90% of it themselves in real time, training for four months to accomplish this. No CGI makes a difference for engaging viewers, and I certainly felt it. Complementing the mind-boggling, thrilling action, credit goes to Dana Stevens' screenplay. Moreover, Gersha Phillips' costume design, Terence Blanchard's music, Akin McKenzie's production design, and Polly Morgan's cinematography combine in an impressive package without a weak link. Already the recipient of several prestigious awards, "The Woman King" is streaming now on several platforms. Check listings.
Related Articles