Film Reviews
Film Reviews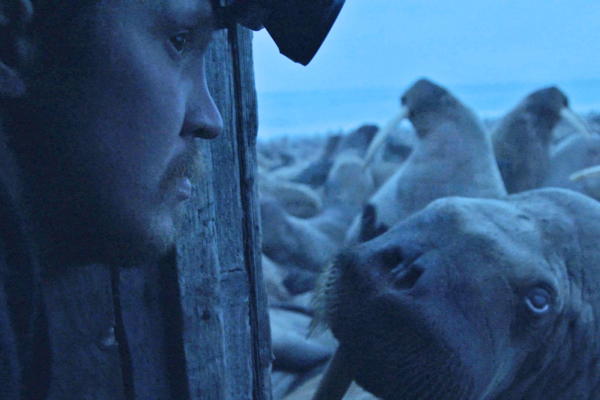 Oscar Nominated Documentary Short Films present compelling statements
By Chuck Lavazzi
Five Oscar nominated documentary short films communicate important ideas. Two take animal welfare as their topic through very different styles but with equally powerful, engrossing works. First, "Haulout" settles into a hut in the Siberian Arctic with Russian marine biologist Maxim Chakilev. For a decade, Maxim has studied the largest walrus haulouts, a term for large congregations of walruses.
October 2020, at Cape Heart Stone about 95,000 walruses crowd the beach, the surrounding Chukchi Sea now without any of the ice that walruses need for rest during migration and feeding. Relying almost entirely on natural sounds, "Haulout" shows these massive animals jam-packed, at risk of stampedes and trampling. Due to global warming, Maxim recorded six hundred deaths, the most ever.
A more heartening story but with some sorrow, "The Elephant Whisperers" watches as elephant caregivers Bellie and Bomman become the first couple to successfully raise two orphaned elephants, Raghu and Ammu. Set in the Theppakadu Elephant Camp in South India, the largest wild space for Asian elephants, the love these caregivers show and the bonds they create with Raghu and Ammu are astonishing and magnificent.
Explicitly political, "The Martha Mitchell Effect" surveys Mitchell's outspoken, astute observations and insights, often discounted with Martha verbally berated by many in the President Nixon, U.S. Attorney General John Mitchell years. Now, as Harvard psychologist Brendan Maher notes, the "Martha Mitchell effect" designates a person's beliefs initially labeled as delusional, later proved accurate.
"The Stranger at the Gate" chronicles a more contemporary, misguided political scheme as Iran and Afghanistan veteran Marine Mac McKinney plots to bomb a local Indiana mosque. Becoming familiar with Afghan refugees leads to reconsideration, with multiple perspectives revealed in this documentary. More familiar changes occur in "How Do You Measure a Year." With the clever idea to ask his daughter the same questions every year on her birthday from one to eighteen, Jay Rosenblatt films Ella on their couch. Answers to questions about what she wants to be, what power is, their relationship, dreams, nightmares, and more reveal a wealth of psychological and emotional insights, plus their abiding love. The five very different but equally deserving Oscar nominated documentary short films screen the Hi-Pointe. You may want to check for other listings.
Related Articles