Film Reviews
Film Reviews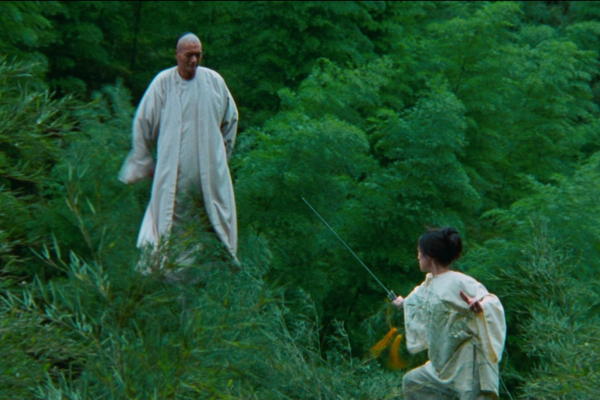 'Crouching Tiger, Hidden Dragon' enjoys rerelease in cinemas
By Diane Carson
Anyone who has regularly seen his films knows, director Ang Lee is a versatile, accomplished, astonishing director. He has an eye for detail, for breathtaking but also effective compositions, for flawless editing, for forceful but never hurried narrative pace, and for powerful music and sound along with lovely, rhythmic speech patterns.
In other words, Ang Lee is a consummate professional who challenges himself with a different subject and style every new work. He includes in his credits: "Pushing Hands," dramatizing the conflict of filial piety in a modern age; "The Wedding Banquet" on parents' pressures for their gay son to marry; "Eat Drink Man Woman" a study of a modern Taiwanese family; "Sense and Sensibility," a sumptuous Jane Austen adaptation; "The Ice Storm," a 1970s American family falling apart; and "Ride with the Devil," a Civil War drama that included Quantrill's Raid.
In 2000 Ang Lee astonished fans of martial arts films with "Crouching Tiger, Hidden Dragon." In Mandarin Chinese with English subtitles (itself a daring move), Lee has done nothing less than push the martial arts genre into a new stratosphere--literally and figuratively. With magical realism and enough plot lines for three films, "Crouching Tiger, Hidden Dragon" immerses us in ancient China, Taoist training, and suppressed passion. "Crouching Tiger" is feminist, erotic, and mythical, all at the same time. It pairs and shows off to powerful effect the great stars Chow Yun Fat and Michelle Yeoh. It also introduces the fabulous Zhang Ziyi and Chang Chen.
The tale involves love, betrayal, rebellion, and good versus evil, especially in the figure of Jade Fox. Conflict features the mystical sword Green Destiny and moves from city to desert, day to night, and young to old, including gravity-defying combat in the treetops, from an early, exhilarating fight scene through to a satisfying, unexpected conclusion.
I was in the audience when this masterpiece premiered in 2000 at the Cannes Film Festival, where cinephiles often resist admiration. But not this time. Ang Lee received a fifteen-minute standing ovation from a breathless, overwhelmed audience. For us martial arts fans, "Crouching Tiger, Hidden Dragon" is a revelation and a thrilling treat. Nothing since there has moved me in the same wonderful ways. So, hooray for its rerelease beginning February 17 in cinemas. Check listings.
Related Articles