Film Reviews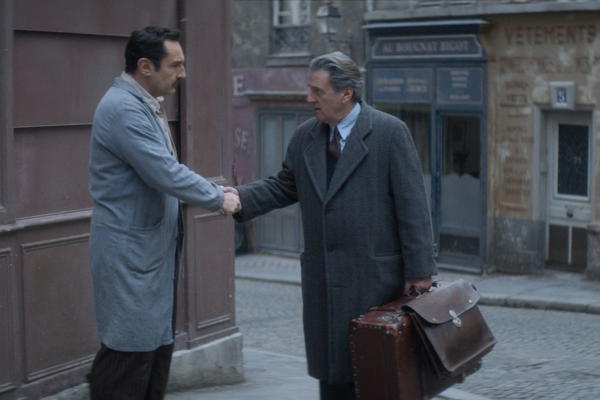 28th Jewish Film Fest screens diverse, superb fiction and nonfiction films
Written by

Diane Carson
March 12 to 16, the St. Louis Jewish Community Center and co-sponsor Cinema St. Louis host the 28th Jewish Film Festival in person at the Marcus Des Peres Cinema. Always connected with Jewish experiences, historical and universal themes make all fourteen documentary and scripted feature films universally relevant.
Films represent Israel, Poland, South Africa, Portugal, and more, with six from the U.S. Too diverse to summarize all of them here, I highlight only a few offerings. March 12 at 4:00 p.m. the fest begins with the superb "Farewell Mr. Haffmann," set in 1941 to 1942 Paris. An accomplished jeweler, Joseph Haffmann, played by the always exceptional Daniel Auteuil, will confront the German occupation as it impacts his family and his profession. Secluded in a cellar, Haffmann's life hangs on the collaboration of assistant François Mercier (Gilles Lellouche), beset with conflicting demands and the man Haffmann has bequeathed his business.
The seven documentaries are: "Bernstein's Wall" on Leonard Bernstein's ideas and achievements; "The Levys of Monticello" adding an important chapter to American history and Thomas Jefferson's world; "I Am Here" chronicling the extraordinary, life-affirming, 98-year-old Holocaust survivor Ella Blumenthal; "A Tree of Life" relating details of the 2018 Pittsburgh Synagogue murders and the cross-cultural support after it; "Hallelujah: Leonard Cohen, a Journey, a Song" celebrating this iconic man and the evolution of Hallelujah; "The Jews and the Blues" pursuing the soulful, joyous, global connections between religion and music; and, for the fiftieth anniversary, "Fiddler's Journey to the Big Screen" tracing the inspiration and creation of "Fiddler on the Roof" through interviews with director Norman Jewison, composer John Williams, and more, narrated by Jeff Goldblum.
Through historical and contemporary content, narrative films address prejudice and love, tragedy and triumph, determination and despair. Several based on true stories add substantial new chapters on Persia, Portugal, and South Africa. The Jewish Film Festival offers a treasure trove of films, all with English subtitles as needed. For more information, you may visit the St. Louis Jewish Film Festival website.
Related Articles