Film Reviews
Film Reviews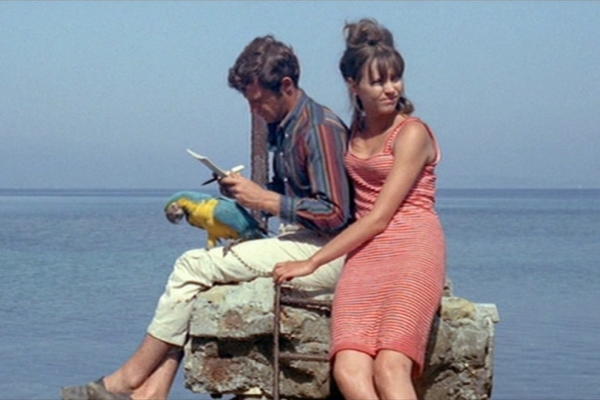 The 15th Annual Robert Classic French Film Festival excels
By Chuck Lavazzi
The 15th Annual Robert Classic French Film Festival, celebrating St. Louis' Gallic heritage and France's cinematic legacy, includes nine feature films over three weekends: April 14 to 16, 21 to 23, and 28 to 30. All screen at Webster University, and each program includes an introduction and post-film discussion led by French or film scholars.
The festival begins on Friday, April 14, with the recently deceased, iconic Jean-Luc Godard's 1965 "Pierrot le fou," that is, Pierrot the Fool or, alternately Sad Clown. In many respects he is, partnering with Marianne Renoir who is on the run from Algerian assassins. Pierrot, whose real name, as he insists, is Ferdinand, drives from Paris to the Mediterranean with bizarre encounters along the way. True to his characteristic narrative incongruities, writer/director, Godard includes Ferdinand's philosophical flights of fancy, comments on film and film director Sam Fuller, unconventional editing choices, and a full color palate. With Jean-Paul Belmondo as Pierrot and Anna Karina as Marianne, fun comes from watching their inspired playfulness.
A contrast in content and style, Saturday, Claire Denis' semi-autobiographical, 1988 debut film "Chocolat" probes with restraint France's colonial presence in Cameroon. Through the observant eyes of a girl named France, the principal African character Protée serves the family, his name an allegorical reference to the Greek sea-god Proteus. Returning as a young woman, France revisits her memories of Protée's required subservience plus his dignified appeal. A plane must land nearby, a runway built, visitors come and go, while throughout the beautifully photographed, isolated landscapes and quiet scenes, repressed emotions swirl. As Protée, Isaach De Bankolé is a man of moral certitude trapped in oppressive French rule.
Sunday, a film I have not seen, "Martin Roumagnac," boasts a stellar cast with Marlene Dietrich and Jean Gabin. Made in 1946, it is described as a tragic postwar romance with Dietrich superb as, what else but, a femme fatale. All films are in French with English subtitles and screen at 7:30 p.m. at Webster University's Winifred Moore auditorium. "Pierrot le fou" screens Friday, April 14; "Chocolat" Saturday, April 15, and "Martin Roumagnac" Sunday, April 16. For more information, you may visit the Webster Film Series website.
Related Articles