Film Reviews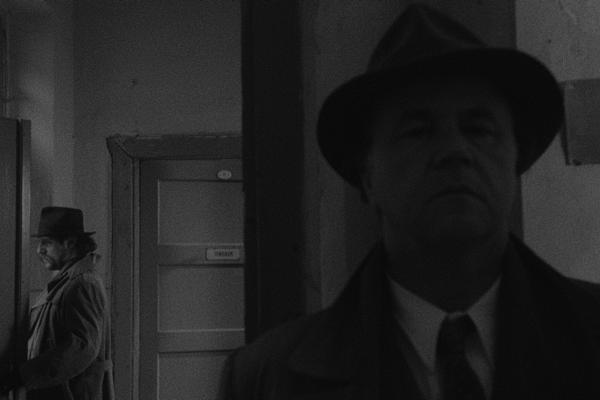 'Twilight' follows a homicide detective's eerie, moody search
Written by

Diane Carson
Hungarian director György Fehér has less name recognition than Béla Tarr with whom Fehér worked for years as scriptwriter and producer. That should change with the first U.S. release of the 4K restoration of Fehér's 1990 masterpiece "Twilight." Through prolonged scenes, minimal dialogue, unhurried reframing, and evocative music, "Twilight" establishes a thoroughly immersive atmosphere with profound emotional impact.
The barebones plot begins with an experienced, soon-to-retire detective being driven to the forested site of yet another murdered young girl, this time eight-year-old Anna killed with a razor blade. When a schoolmate confirms details of one of Anna's drawings, the man called "the giant" becomes the primary suspect. Developments complement bewildering discoveries as the search progresses.
Cinematographer Miklós Gurbán's uniquely framed, high contrast black and white compositions alternate with hazy grey images obscuring the clarity of vision as much as the truth of the killer's identity. The camera may shoot from the back seat of a car, through the car window or a half-open car door, may obscure faces or hold them in striking close-ups. Ominous, low-frequency, haunting music punctuates the bleak physical and social environments. Fehér's aesthetic signature and distancing encouraged me to watch ever more closely as details are parceled out in an elusive manner.
Based on Swiss author Friedrich Dürrenmatt's 1958 crime novel "The Pledge: Requiem for the Detective Novel," "Twilight" is best described as an existential, noir murder mystery. In adapting the novel, Fehér wrote, "I want to show to what extent the search for justice stands in ridiculous contrast to the eternity of nature. Meanwhile, it is precisely this search that I am so fascinated by." Such a complex, fascinating perspective informs every scene.     
In Hungarian with English subtitles, the gorgeous 4K restoration of "Twilight" screens at Webster University's Winifred Moore auditorium Wednesday, May 24 and Thursday, May 25, at 7:30 each of those evenings. For more information, you may visit the film series website.
Related Articles