Film Reviews
Film Reviews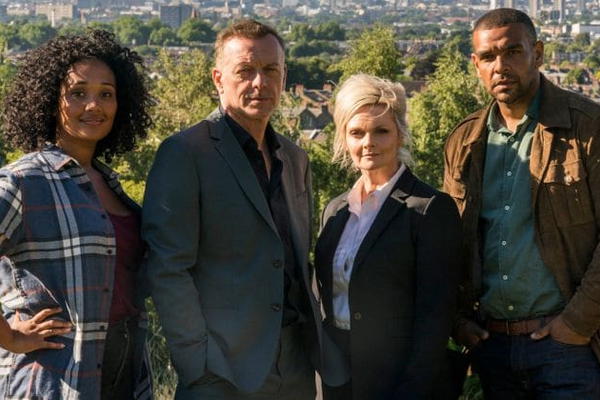 "London Kills" follows a team of elite, clever detectives
By Chuck Lavazzi
By Diane Carson
The Amazon Prime series "London Kills" relies on a tried and true pattern. Some Londoner discovers a body in the opening scene, detectives show up, gather evidence, and proceed to interrogate those close to the victim. Those nearest usually include the murderer, though the police must navigate multiple lies before uncovering the truth.
Each murder is usually solved within a self-contained episode. Additional subplots involve detectives' private and professional lives with attention-grabbing developments on an arc through a season's episodes; for example, the mysterious disappearance of team leader DI David Bradford's wife whom he may or may not have killed, a dirty cop on the take and possibly a murderer himself, a sociopathic homeless woman, a witness protection problem, and forbidden office involvement.
Each of the four principals of the investigative team communicates a complex, unconventional, engaging character. None of the pretty men and women of Hollywood stereotypes are on display. It's a great mix with Hugo Speer as terse, irascible, Detective Inspector Bradford who runs hot and cold with his detectives. Bailey Patrick as Rob Brady, a senior, Black Detective Constable is unafraid to acknowledge racism when he sees it. Holding his cards close to his chest, his reserve adds tension to scenes, and his size makes Rob an imposing presence. Tori Allen-Martin is trainee detective Billie Fitzgerald, learning the ropes slowly but with an intuitive grasp of individuals and captivating reaction shots. The driving force and anchor of the team is Detective Sergeant Vivienne Cole, played with a cagey, vigilant attitude by Sharon Small, a marvelous actress. All four are, quite simply, great to watch act and interact.
Created by Paul Marquess, the police procedural has a documentary feel with occasionally improvised dialogue. In addition, aside from establishing shots of Tower Bridge and numerous double-decker red buses, the London locales present lived-in neighborhoods, not the tourist destinations. The 'you-are-there' presentation, the interrogations of suspects, the energy, the avoidance of gruesome violence, the convoluted plots, the social critique—all make this uniquely entertaining. With a fourth season promised, the three seasons of "London Kills" stream on Amazon Prime and Acorn TV. Check listings.
Related Articles