Film Reviews
Film Reviews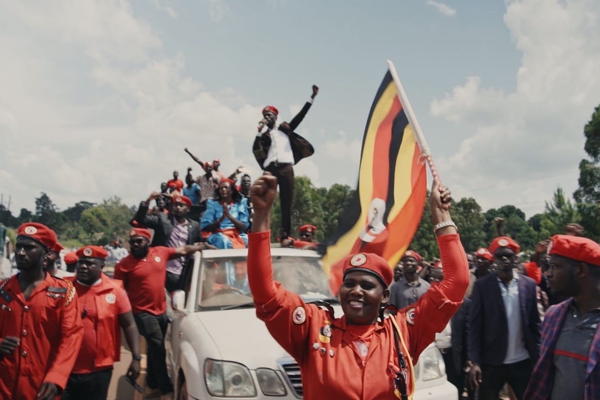 "Bobi Wine: The People's President" profiles this Ugandan activist
By Chuck Lavazzi
By Diane Carson
Codirectors Christopher Sharp and Moses Bwayo's documentary "Bobi Wine: The People's President" tells a story that, were it fiction, would qualify as a fanciful Hollywood invention. For its subject moves from the slums of Uganda's capitol Kampala to star status as a reggae-inspired musician to candidate for Ugandan president, then arrested, tortured, and eventually released, ill and lame.

There's more. It's set in East African Uganda, with informative explanations of President Yoweri Kaguta Museveni's dictatorial reign and Museveni's amending the Constitution to extend his thirty-five year regime (begun in 1986), one supported by the police and military. Reacting to this in popular, peaceful protest songs, Wine, whose real name is Robert Kyagulanyi Ssentamu, builds a strong following, is elected to Parliament, and violently harassed, his security team and his allies become the targets, literally and figuratively, his music and concerts banned, his wife Barbie and four children endangered. Subsequently, Wine and his backers endured hideous torture, including murders and possible poisoning. While documenting events, co-director Bwayo was shot in the face, arrested, spent nights in prison, was released, and rearrested.
Bobi and his formidable wife Barbie, a middle-class woman soon devoted to this up-and-coming musician, gave full access to their personal and public lives. Thanks to both co-directors being born in Uganda, they choose revealing, candid moments well, offering a rare scrutiny of Ugandan society and politics. Sharp and Bwayo followed Bobi for five years, working over two years editing literally hundreds of hours of footage. Some ellipses may require viewer indulgence, but the full picture increasingly becomes clear and sobering.
"Bobi Wine: The People's President" is a tribute to a fearless advocate for democracy and yet another tragic tale of power run amok, too often supported by developed nations. As they affirm in press notes, the directors hope audiences will "question their own government's financing of dictatorial regimes . . . for Western governments are completely complicit in maintaining dictatorship in Uganda." In English and Swahili with English subtitles, "Bobi Wine: The People's President" screens one night only, Tuesday, August 29, at Webster University's Winifred Moore auditorium at 7:30 that evening. For more information, you may visit the film series website at.
Related Articles