Film Reviews
Film Reviews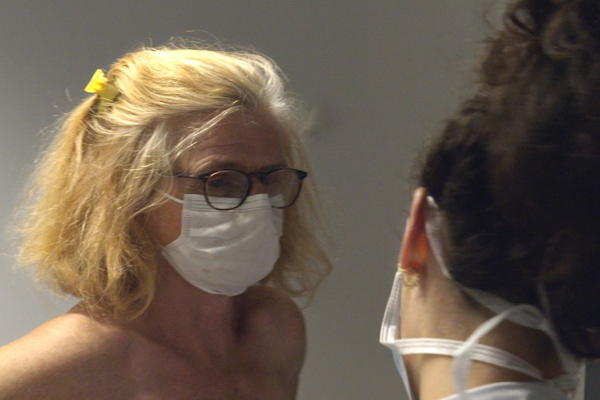 "Our Body" records women patients in a Parisian gynecology ward
By Chuck Lavazzi
By Diane Carson
Unobtrusively, French director Claire Simon documents patients, doctors, and nurses in a gynecology ward of a Parisian hospital. Over two hours and forty-nine minutes, Simon observes interaction concerning a wide range of women's medical conditions and records several operations. Discussions include abortion, trans therapy, hysterectomy, endometriosis, fertility testing and treatment, breast and cervical cancers, mastectomy, and more.
In other words, Simon covers a range of procedures and issues affecting women and, less frequently, the men involved in their lives. While the focus remains principally on the women, several men have sperm counts assessed with invitro fertilization chosen for a few women hoping to become pregnant. In another scene, women protest doctor abuse and demand improved protocols to better protect patients.
Throughout "Our Body," the medical staff of men and women interact with empathy, clearly committed to helping their clients understand their conditions, with all their questions answered. No one rushes the sessions as long takes establish individuals' needs. With a straightforward approach, the camera records dialogue among doctor, nurse and patient, most often in respectful medium distance shots. Simon deviates from this only with a voiceover introduction and conclusion plus a few offscreen questions, but direct interaction dominates. In one scene of a meeting, a medical group presents and confirms best treatment options for their cases.
Unexpectedly and ironically, director Simon becomes one of the subjects part way through her filming, and she joins the diverse group of women. She states at the end that it's all "a sort of crazed waltz of destinies." Simon's expansive survey of women's bodies and health concerns does include explicit footage of procedures and nudity.
In French with English subtitles, "Our Body" screens at Webster University's Winifred Moore auditorium Friday, September 8, through Sunday, September 10, at 7:00 p.m. each of those evenings. For more information, you may visit the film series website.
Related Articles