Film Reviews
Film Reviews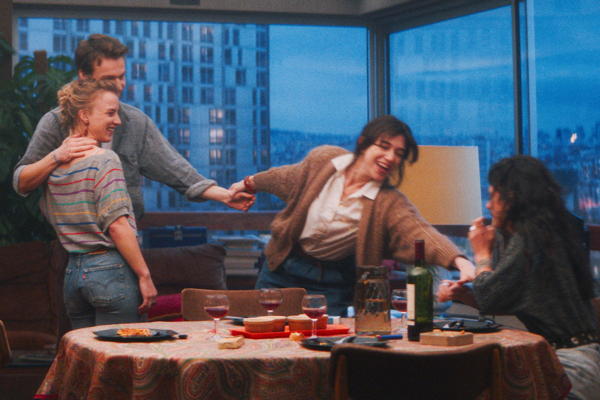 "The Passengers of the Night" watches a 1980s Parisian family
By Chuck Lavazzi
By Diane Carson
In "The Passengers of the Night" French director Mikhäel Hers settles in with a recently separated, middle-aged woman and her two children for an exploration of unexceptional and yet quite moving 1980s Parisian lives. Affection for all the characters results from a nonjudgmental, straightforward presentation of events over a seven year period, beginning with François Mitterrand's election, May 10, 1981.
Implicitly, always remaining a backdrop, this political and cultural moment indirectly impacts and informs the world mother Elisabeth, her high school son Matthias, and her college daughter Judith navigate. By contract, directly altering all their lives, Elisabeth invites teenage dropout Talulah to move in to the family's apartment's extra room. As with any individual added to a family or group of friends, the dynamic shifts in complex ways. Meantime, with trepidation, Elisabeth seeks out and acquires a job screening callers for an overnight call-in show, the catalyst for the film's title, "Passengers of the Night," but applicable to most of the three-dimensional individuals astutely and reservedly depicted.
Inspired by the actual overnight radio program, "La Maison de la Radio," "The Passengers of the Night" is a film to absorb, to watch and listen, scrutinize and learn, this time from unexceptional, genuine individuals. Moments of archival footage further define the decade without intrusive interruption in the narrative flow. Further establishing the ambiance, cinematographer Sébastien Bachman worked with characteristic 1980s film grain and formats to craft a feel for that era, an effort supported by the music. In fact, in press notes, director Hers says, "My relationship to that period revolves largely around music," a supremely effective way to slyly insinuate a different time period.
Each person here is bereft in some significant way, what Hers describes as "clearly a little broken, with open wounds," and yet each has a receptivity, a grace, a fragility leading, again in Hers' words, to people feeling understood in their solitude. This is a lovely, perceptive film. In French with English subtitles, "The Passengers of the Night" screens at Webster University's Winifred Moore auditorium Friday, September 22 through Sunday, September 24, at 7:30 each of those evenings. For more information, you may visit the film series website.
Related Articles