Film Reviews
Film Reviews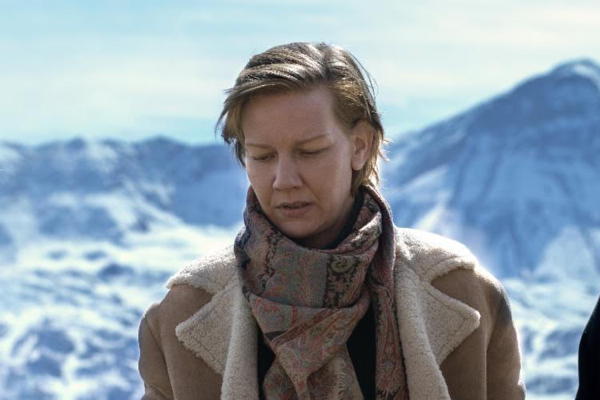 "Anatomy of a Fall" attests to the elusive nature of truth
By Diane Carson
Written by Diane Carson
Writer/director Justine Triet's intriguing "Anatomy of a Fall" demonstrates in complex, compelling ways the elusive, bewildering search for the truth behind a death. The multilayered intrigue kicks off early in the film as wife Sandra  and Samuel's vision-impaired, eleven-year-old son Daniel discovers Samuel lying bloody in the snow beneath their Grenoble chalet's second-floor window.
The question that propels and haunts the film is the cause of Samuel's death: murder, accidental fall, or suicide? A year on, an interrogation and subsequent trial of Sandra, a professional novelist, involves her and Daniel, who testifies to his parents' problematic relationship. One extended argument, introduced in court through an audio recording and dramatized on screen, is one of the most searing clashes ever recorded, up there with those in "Who's Afraid of Virginia Woolf?"
Both Samuel, a professor who homeschools Daniel, and Sandra express deep resentments and expectations, most anchored in sexist norms. There and in other scenes, debates over their responsibilities reveal a wealth of deep-seated cultural assumptions that lead to this staggering argumentative exchange. At this year's Telluride Film Festival where I saw the film, Triet makes clear that Sandra and Samuel "attempt democracy but are incessantly interrupted by dictatorial impulses."
Multiple complications follow. Sandra's friend Vincent, who recognizes her duplicity, accepts representation as her lawyer. Adding more layers, Sandra is German living in France, struggling with the language. And metaphors abound, especially the pervasive idea of falling, from a ball bouncing down steps to a dog in the opening scene to extended, indeterminate analyses of Samuel's wounds incurred from his fall. Moreover, again in Triet's words, "The idea was to tell the story of a fall of a body, technically speaking, to make it the corollary of the fall of a couple, and of a love story." Almost documentary in its style, with no added music, emotions unravel.
As Sandra, a brilliant Sandra Hüller conveys immense ambiguity as the investigation pursues but resists any easy answers. How can we ever discover the truth of individuals and their actions? This year's prestigious Cannes Film Festival Palme d'Or winner, in French and German with English subtitles and in English, "Anatomy of a Fall" is available now. Check listings.
Related Articles