Film Reviews
Film Reviews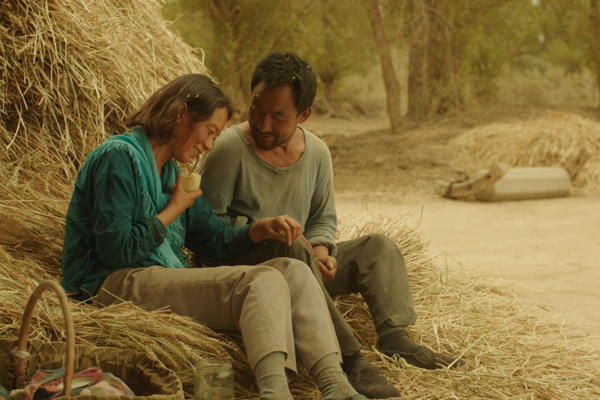 "Return to Dust" presents a somber view of a Chinese couple
By Diane Carson
Chinese writer/director Ruijun Li's "Return to Dust" beautifully conveys the dignity and evolving love of two middle-aged Chinese peasant in today's inequitable, oppressive world. Forced into an arranged marriage by spiteful, unsupportive families, Cao Guiying and Ma Youtie lack status, Ma as a "fourth brother." Cao suffers from her family's beatings causing infertility, incontinence, and trembling hands.
Treated as reviled outcasts, both survive by their hard work and kindness to each other in compassionate collaboration. Set in rural Gansu bordering the Gobi Desert, as BMWs whiz by, middle-aged Ma and Cao lead their beloved, hard-working donkey to plant, tend, and harvest wheat fields. Homes are demolished and built, chickens raised, and swallows saved, while Ma must repeatedly donate his rare blood.
Quietly, calmly, Ma and Cao grow close in an exquisite, deeply moving union, their love blossoming in a metaphorical parallel to their cultivation of the rich, untapped soil. Through quiet scenes, they support each other, finding the camaraderie so elusive elsewhere. But the local government intervenes, advocating urban relocation without recourse by farmers impacted.
All credit to veteran actor Hai-Qing as Cao Guiying and real farmer Renlin Wu as Ma Youtie. I fell in love with these two, their poignant goodness. Shot over the course of a year's agricultural cycle, Weihua Wang's gorgeous cinematography respects their privacy through medium and long shot compositions. Similarly, the music and sound complement them through understatement and inviting silences.
After its opening weeks' domestic success, China banned "Return to Dust" presumably for its negative, albeit entirely implicit, depiction of contemporary China, especially in the film's concluding scenes. According to journalistic reports, it remains unavailable for screening in its director Li's home country. "Return to Dust" is a film to cherish for its plea for humane understanding and empathetic treatment of all. Its heartbreaking and heartwarming empathy for these two captivating individuals leads me to already put it on my Top 10 List for 2023. In Mandarin with English subtitles, "Return to Dust" is now streaming on various platforms. Check listings.
Related Articles