Film Reviews
Film Reviews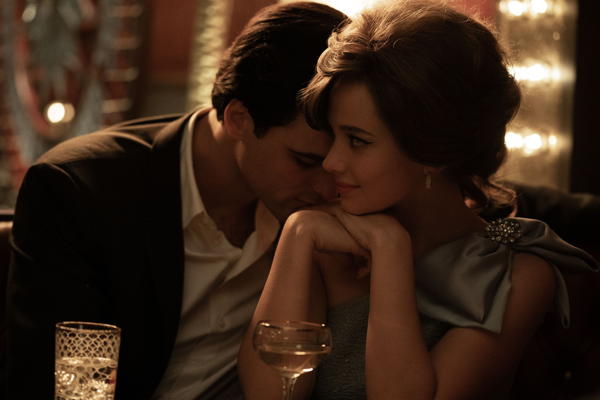 "Priscilla" scrutinizes Priscilla's and Elvis' relationship
By Diane Carson
Solid but unexciting, writer/director Sofia Coppola's "Priscilla" painstakingly anchors its story in Priscilla Beaulieu Presley's relationship with Elvis. It begins with her high school days in 1959 Germany at the Air Force base where her stepfather and Elvis are stationed. Riding the roller coaster of their relationship, it concludes with her leaving Graceland in 1972.
Based on her 1985 memoir "Elvis and Me," Priscilla signed on as executive producer of the film and, after screening the finished product, commented to Coppola, "That was my life," a strong endorsement of a complex study. For us strongly visual viewers, the difference in the height of the actors as Elvis and Priscilla (he's quite tall, she's short) and several of the compositions emphasize physically and figuratively the feeling of Priscilla's victimization. To her credit, writer/director Coppola understates the emotionally fraught exchanges, resisting melodramatic touches or sensationalized exploitation. In a Zoom press conference I attended, Coppola said she wanted to tell the story with sensitivity, not to villainize Elvis, a difficult balancing act she impressively achieves. Nevertheless, Coppola relies too often on occasional montages of joyful, playful moments (as welcome as they are) while stressing the more somber ones.
As Elvis, Australian actor Jacob Elordi delivers a first-rate imitation of Elvis' voice, though, wisely, he doesn't sing any of the inimitable, iconic songs. As Priscilla, Cailee Spaeny won the Volpi Award for Best Actress at this year's Venice Film Festival. Her subdued, controlled performance strikes the right note for a fifteen-year-old caught up in the heady whirl of fame mixed with Elvis' unexpected doting. Shot in a quick thirty days, Spaeny said that upon occasion she played Priscilla at fifteen and then twenty-seven in the same day, the clothes and especially the beehive hairdo helping her get into character.
The soundtrack, with music by Phoenix and songs from the time period, adds important commentary. Through strong art direction, glamor defines this world, from the opening closeup of Priscilla's bare feet, painted toenails and all, sinking into the luxurious Graceland carpet to her applying false eyelashes as she goes into labor. However, the many hangers-on who populate Elvis' arena cannot ease the loneliness, a theme of Coppola's "Lost in Translation" and "Marie Antoinette" as well. Priscilla would have to solve the difficulty of finding and asserting her identify all on h
Related Articles