Film Reviews
Film Reviews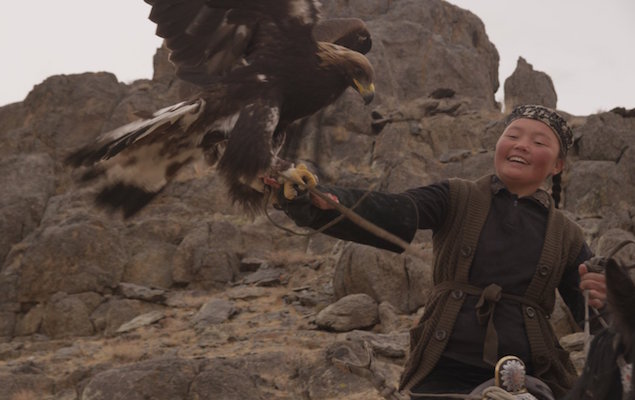 'The Eagle Huntress' is a stunning profile of 13-year-old Aishopan
By
In April 2014 director Otto Bell saw Israeli photographer Asher Svidensky's BBC photos stunningly depicting 13-year-old Aisholpan Nurgaiv. In the remote northwest Mongolian steppes Aisholpan lives a nomadic life with her family with one exception. She is "The Eagle Huntress" of Bell's documentary, the first woman ever to compete in the annual Kazakh Eagle Festival against 70 men. 
What happens before and after that event in the Nurgaiv family is an anthropologically rich and absolutely engrossing presentation. Bell profiles the five main aspects of this culturally and historically rich tradition: capturing an eaglet, taming and bonding with it, training and then teaching the eagle to hunt, and making needed equipment. With a wingspan over six feet, golden eagles weigh up to 15 pounds, average three feet tall, and reach speeds of 190 miles per hour. A fearless Aisholpan with a million-dollar smile embraces the challenges, fascinated by eagles from an early age and supported by her father and mother despite elders' disapproval.
The Eagle Huntress is as exhilarating as it is inspirational, in part because of resourceful cinematographer Simon Niblett who uses extraordinary drone camerawork and a GoPro fitted onto an eagle. Shooting with never more than a four-person crew, Bell and Niblett put us in the ger (the family dwelling), on the precarious ledge where Aisholpan captures her eaglet, in the midst of the eagle competition, and soaring over thigh-high snow during a fox hunt in minus-40 degree temperatures. Bell says he budgeted five days for the hunt; it took 22 days.   
Among the many touching moments, a veteran male eagle hunter releases his seven-year-old eagle to the wild, which is the custom so the eagle will mate and continue the cycle. Equally affecting are wordless interactions between a charming Aisholpan, her mother Almagul, and her father Agalai as well as between Aisholpan and her fellow school classmates. Its understated presentational style extends from the music and sound to the limited, unobtrusive narration by Daisy Ridley. Among the best films of the year, The Eagle Huntress is one to reflect on and savor. It transported me to Mongolia and a refreshingly polite and supportive community. In Kazakh with English subtitles, at a Landmark Theatre.
Related Articles