Film Reviews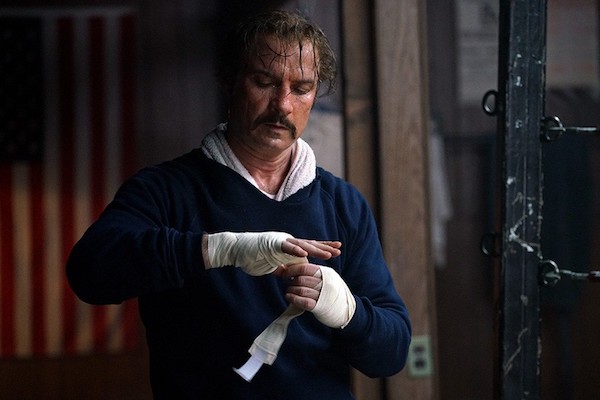 'Chuck'
The brief title Chuck belies the complexity of heavyweight boxer Chuck Wepner, the inspiration for Sylvester Stallone's Rocky. And yet Wepner's life story has as many tragic moments as glorious ones, with a fair sampling of the too often predictable, banal indulgence in alcohol and drugs. Through ups and downs, director Philippe Falardeau manages to mine Wepner's humanity.    
The pride of Bayonne, New Jersey, where he grew up, Wepner made boxing history for many brutal bouts, most notably, as featured here, for being picked to fight Muhammad Ali, March 24, 1975 for the world Heavyweight title.  Every boxing fan knows Chuck didn't win, but he latest all but nineteen seconds of the fifteenth round, an amazing endurance contest with Wepner knocking Ali down in the ninth round. The brief reenactment here makes clear the punishing, unrelenting nature of the contest. This, with his other bloody fights, also earned Wepner the nickname he disliked, "Bayonne Bleeder."
As he shows in his wonderful 2011 film Monsieur Lazhar, director Falardeau understands the emotional depth of underestimated, apparently two-dimensional individuals. Here he presents the pain Wepner feels as his marriage to Phyliss falls apart, even though Chuck knowns his physical indulgence in sex, booze, and cocaine caused it. Chuck's voiceover observations throughout the story make clear his perspective on all his foibles, from meeting Stallone to prison time as well as his obsession with Anthony Quinn in Requiem for a Heavyweight.
As Wepner, Liev Schreiber brings a touch of his Ray Donovan toughness to the character, but his command of the struggle makes Chuck a moving, poignant person. In supporting roles, Elisabeth Moss as Phyliss conveys a strength of values that doesn't compromise. Naomi Watts as the sympathetic but equally sensible bartender Linda brings energy to her portrayal. Both Michael Rappaport as Chuck's alienated brother and Ron Perlman as manager Al Braverman give solid performances. Morgan Spector is an appealing Stallone, and Pooch Hall as Ali does a nice job imitating Ali's intonation and phrasing.
Chuck is a good movie about a noteworthy boxer because it shows his equally, if not more difficult battles out of the ring. At Landmark's Tivoli Cinema. 
Related Articles