Music News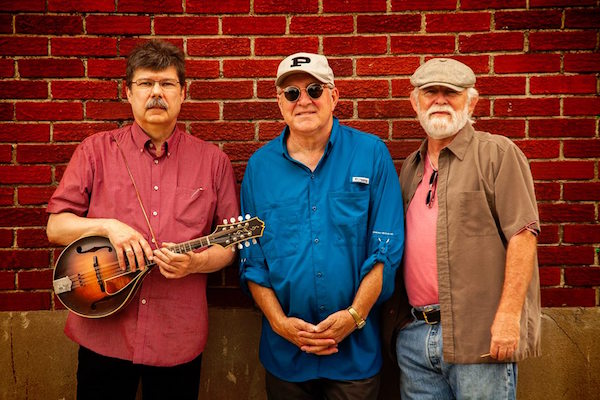 Randle Chowning, Larry Lee & David Wilson coming to the Focal Point, August 12, 2017
When Randle Chowning, Larry Lee & David Wilson perform at the Focal Point on August 12, we can expect a healthy serving of original recipe country rock from the 1970s dating from their work with the Ozark Mountain Daredevils, a band they left years ago. But it is not an oldies revival show they do. Chowning and Lee offer an equal number of tunes they have developed in the last decade and, to remind us that they still have gas in their tanks, a few songs composed since the last time the trio were in town. 
Chowning and Lee's musical compadre is the David Wilson on fiddle and guitar. He made his name with Ozark bluegrass groups Radio Flyer and the Undergrass Boys. With Chowning on guitar, Lee on guitar or keyboards and all of them singing, the trio offer a full & pristine sound particularly in a cozy listening room like the Focal Point. 
"I love that room," said Larry Lee from his home in Ozark, MO. "It's one of my favorite places to play."
Lee is the voice of the Daredevils' biggest hit, "Jackie Blue," and of a number of other OMD favorites that he sings today. He takes a craftsman-like appraisal of the band's A&M albums (1973-78): "The main thing is that a lot of those songs, I'll say even most of them, still hold up today as credible songs. They may sound a little dated for whatever reason but as far as the structure of the chord progression and the melodies and the lyrics, I think we did some really good work back then."
Lee's collaborations since the mid-2000s with his old OMD bandmate Chowning have stimulated his own compositional energies. Lee, who departed the Dares in the early '80s, spent a quarter decade in Nashville working primarily as a producer for country artists. Chowning left the Dares in 1976, rejoined in the early to mid-eighties and never stopped writing songs. His 2015 and 2016 CDs have been folk rock under the name Ozark Joe. Chowning and Lee have also recorded three Americana CDs as Beyond Reach. More new studio work is in the offing. 
"I'm doing a couple of newer things," said Lee said of the upcoming concert. "There'll be at least three new things of mine that I have written since the last time we played up there. and we're doing about the same of Randle's. We're doing 19 or 20 songs and probably eight or ten Daredevils songs, and then there's some Beyond Reach stuff and things Randle and I have written."
Chowning called from his Springfield home to express much the same sentiment: "In my slack time, when I'm not out performing, I'm doing one of three things. I'm thinking about a song, writing a song or thinking about recording. I still think more or less in albums or CDs rather than going in and 'Oh, I have to record [this particular song.' I like to do 'em in groups, which is probably archaic but that's the way I like to do it. If I'm in record mode, I'm doing six or eight or more, enough for a package. Generally I try to have a theme going on, eight or ten songs that are old rock 'n' roll or they're folkie. So I try to keep 'em in packages."
In terms of concert venues, the Focal Point is almost like a full circle experience for Chowning and Lee. In their early days, the Ozark Mountain Daredevils performed at small clubs, coffeehouses and college venues. In the bi-state area 45 years ago they were playing the student centers at SLU and SIU-E and in May '73, they were part of a remarkable event at Washington University in the quadrangle on a bill that included John Hammond Jr, Leo Kottke and Weather Report. The Daredevils soon graduated to a bigger scale and in St. Louis, they performed many times in the next decade including headline dates at Kiel Opera House, the Fox Theater and the Ambassador and an opening slot for Willie Nelson at the Checkerdome. 
It was a guerilla movement then to spread the music. And for Chowning and Lee and others like them, it's an indie/DIY thing now. 
The secret sauce behind the Ozark Mountain Daredevils is part chemistry, part attitude. The OMD started in Springfield as a semi-formal songwriters circle in late 1971. Within a year and a half, they were signed to a record deal and recording in London under the direction of uber-producer Glyn Johns. The band blended genres seamlessly on album and in concert so the weirdly wonderful "Chicken Train," which is about as elemental an example of hillbilly stompin' as they come, was presented alongside well crafted country-rock and sophisticated pop. 
Chowning described his own eclecticism as a function of time and place. He grew up in Mountain View, Missouri. The small south central town near the Arkansas border looks remote on the map, but when Chowning was a boy in the 1950s, he was tuned into all manner of sound because his parents had access to the new technologies. 
"My father was a radio operator in World War II and was quite successful in a number of landings in north Africa and Sicily and Italy, under General Patton part of the time. When he came back to south central Missouri he opened up a radio/TV shop in the 1950s. Until I was nine years old, before we moved to southwest Missouri, that was my environment and my father had the best stuff you could have in the '50s. He put this huge antenna, I mean like 40 foot, on top of the house on an electric swivel, meaning that he could change the attitude, the way the antenna was facing. He realized we were uphill from Memphis so we got Memphis radio and television, really, really good in the 1950s. 
"So I was listening to, and my brother who was older than I was listening to, blues music and rock 'n' roll at night. Because we couldn't hear it in the daytime back then. So we would pick up at night on Memphis radio but in the daytime, all I heard was folk music being in that part of the country. Once you get kinda infected with that ole blues and rock 'n' roll, it's hard to get rid of it. [Chowning laughed at the thought.] That's why I didn't become a bluegrass or country artist, is because I was infected with blues and rock and roll at a very young age and I can't get away from it. I always walk a blurry line between those genres. That was my environment. 
"And pop music. My mother had all the great pop records of the day, Sinatra and all this stuff, so I was just inundated with a ton of different influences. At night on the radio. Daylight with folk music on jukeboxes and country. And then my mother's record collection, which was incredibly vast and eclectic. She sang too, generally pop songs but that would be Hank Williams to 'Somewhere Over the Rainbow.' 
"I just can't get away from writing a lot of different things with those influences. It's probably kept me in the poorhouse but...," Chowning said laughing ruefully at the thought. "I just vacillate back and forth between genres and that's the way I write." 
Related Articles