Music News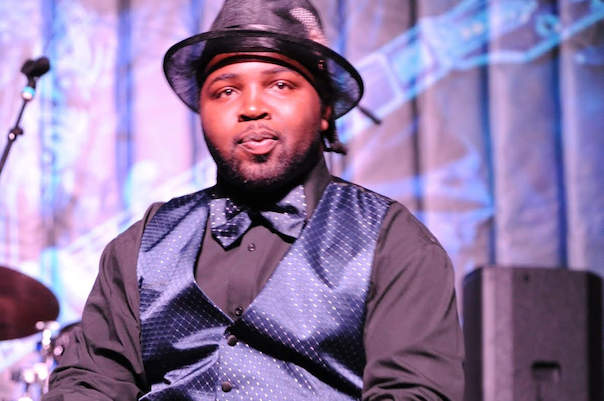 Marquise Knox's 'Black and Blue' showcases the bluesman at work
A dozen years ago Marquise Knox served notice that the prodigy had arrived with his Baby Blues Showcase appearance at BB's Jazz, Blues and Soup. Over the next decade, mentored by the best of the old Delta bluesmen, Knox would hone his musical, songwriting and stage skills and surround himself with some of the best musicians in town. His new album Black and Blue -- the release of which was celebrated at the Pageant on Friday, September, 29 -- shows that the prodigy has truly grown into the bluesman. 
As a teenager Knox was embraced by the blues community. Locally Henry Townsend and Big George Brock were mentors. A meeting in Clarksdale with legendary blues drummer Sam Lay led him to Chad Kassem and a record deal. He recorded his first CD, Manchild at 16 with the Michael Burks Band at the Blue Heaven Studios in Salina, Kansas. It would be followed by Here I Am in 2011. 
In the following years Knox toured and playing regularly around town. He tapped season pros like Matt Lawder on guitar and Michael Battle on drums to join him. Bass player Gus Thornton joined in 2013. They call each other family. You can see their love and respect they have for each other while performing. 
Black and Blue, recorded at the September 2016 Bowlful of Blues Fest in Newton Iowa, gives us what Marquise Knox fans know best -- the sweat, grit, power, improvisation and emotion of his live performances. Like all their shows, they did not have a playlist because as Marquise says, "I like to gauge the crowd and play what I feel will work." It was a concert full of surprises.
The first was the band didn't even know that it was recorded. Iowa Public Radio had gotten Knox's permission to record months earlier but he forgot about it. After the show they found out by listening to the tape. They liked what they heard. It fit with Marquise's desire to self-produce on his own record label and his awareness that "you can't make no money until you write your own stuff." 
Black and Blue showcases all Knox's skills along with those of his talented bandmates. The opening with riffs on "It's Not Right" put you in a Stevie Ray Vaughn frame of mind. The up-tempo "When My Baby Moves" pairs nicely with his R&B flavored love song, "Sweet Smell." The song ends by morphing into the hard electric blues "Commit a Crime" with Marquise's harp at the steering wheel. 
The next two track start on the same chord but head in different directions. "You Keep Asking Me" takes off in an upbeat style to tell a tale about love gone wrong. "Shine in the Rain" slows things down for a song about love, loss and rescue. The final song "One More Reason (To Have the Blues)" with its references to the lead poisoning tragedy in Flint Michigan echoes the social consciousness of the Delta musicians that sang about the floods and tragedies of their times. 
The last surprise in Black and Blue comes when Marquise asks and answers the question with a B.B. King style "Can a Young Man Play the Blues." The next track, "Bluesman," is about who Marquise has become. The band was surprised by his choice of this Skip James song because they had never played it. But they are pros as Matt Lawder says, "I know how to follow progressions and we did it." This has become Marquise Knox's signature song. He often leaves the stage greeting his fans and filling the rooms with his powerful voice. He and the band have embraced the song. "It fits me," Marquise says, "This is who I am. I am a bluesman."
Click below to see all of Bob Baugh's photos from the evening.
Related Articles